Illumination

Schedule 2017

| Date | Time |
| --- | --- |
| Jan 1 to 31 | 5:00 pm - Midnight |
| Feb 1 to 28 | 6:30 pm - Midnight |
| Mar 1 - 11 | 7:00 pm - Midnight |
| Mar 12 - March 31 | 8:30 pm - Midnight |
| April 1 to 30 | 8:00 pm - 1:00 am |
| May 1 - May 14 | 8.15 pm - 2:00 am |
| May 15 - May 31 | 8.30 pm - 2:00 am |
| June 1 - July 22 | 8.45 pm - 2:00 am |
| July 23 - Aug 15 | 8.15 pm - 2:00 am |
| Aug 16 - Aug 31 | 7:45 pm - 2.00 am |
| Sept 1 - Sept 19 | 7:15 pm - 2.00 am |
| Sept 20 - Sept 30 | 6.45 pm - 2.00 am |
| Oct 1 - Oct 15 | 6.30 pm - 1:00 am |
| Oct 16 - Nov 04 | 6.00 pm - 1:00 am |
| Nov 05 - Dec 30 | 4.30 pm - Midnight |
| Dec 31, New Year's Eve | 4:30 pm - 2:00 am |

* All times are subject to change.

Fireworks

Schedule 2017

| Date | Time |
| --- | --- |
| Jan 6, 13, 20, 27 | 9:00 pm |
| May 19, 21, 22, 26, 28, 29 | 10:00 pm |
| June 12 - 16 | 10 PM |
| June 19 - 23 | 10:00 pm |
| June 26 - 30 | 10.00 pm |
| July 1 & 2 | 10:00 pm |
| July 3 - 7 | 10:00 pm |
| July 10 - 14 | 10:00 pm |
| July 17 - 21 | 10:00 pm |
| July 24 - 28 & 31 | 10:00 pm |
| August 1 - 4 | 10 PM |
| August 14 - 18 | 10:00 pm |
| August 21 - 25 | 10:00 pm |
| August 28 - 31 | 10 PM |
Special

Illumination Schedule 2017
| Date | Specialty | Colour | Time |
| --- | --- | --- | --- |
| February 2 | Annual Observance Day for Prostate Cancer | Blue | 10:00 pm |
| February 4 | World Cancer Day | Orange & Blue | 10:00 pm |
| February 14 | Valentine's Day | Red | 7:00PM, 8:00PM, 9:00PM & 10:00PM |
| February 15 | International Angelman Day | Blue | 10:00PM |
| February 22 | World Encephalitis Day | Red | 10:00PM |
| February 28 | Rare Disease Day | Blue | 10:00PM |
| March 03 | Colorectal Cancer Awareness Month | Blue | 10:00PM |
| March 09 | World Kidney Day | Orange | 10:00PM |
| March 12 | Girl Guide & Girl Scout Cookie Program | Bue & Green | 10:00PM |
| March 17 | St. Patrick's Day Global Greening | Green | 9:00PM, 10:00PM & 11:00PM |
| March 25 | Earth Hour | No Illumination | 8:30PM - 9:00PM |
| March 26 | Purple Day for Epilepsy Awareness | Purple | 10:00PM |
| April 22 | Earth Day | Green | Top of the hour every hour |
| May 22 | Victoria Day | Purple | Top of the hour every hour |
| May 29 | Memorial Day | Red, White & Blue | Top of the hour every hour |
| June 04 | OSPCA & SPCA | Blue & White | 9:30PM |
| July 01 | Canada Day | Red & White | Top of the hour every hour |
| July 04 | Independence Day | Red, White & Blue | Top of the hour every hour |
| November 11 | Remembrance Day | Red | Top of the hour every hour |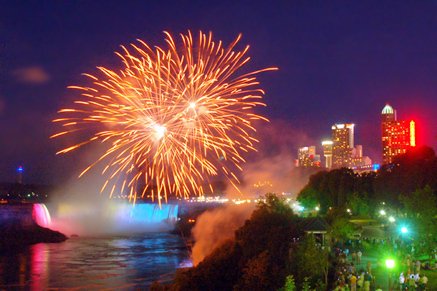 Winter Fireworks Displays From November 19, 2016 to Jan 31, 2017
Fireworks Displays will begin on Saturday, November 19, 2016 for the Ontario Power Generation Winter Festival of Lights Opening Ceremonies with two fireworks shows taking place at the conclusion of each Opening Ceremonies performance.
November 19th at 6:40 PM and 7:40 PM (times may vary).
Friday November 25th at 9:00pm
Nightly fireworks will take place from December 23rd to December 30th at 9:00 PM.
The winter fireworks schedule will also include weekly fireworks shows at 9:00 PM every Friday night until January 27th, 2017.
Nightly Illumination
"To see the Falls at night is to be wide awake in the land of dreams"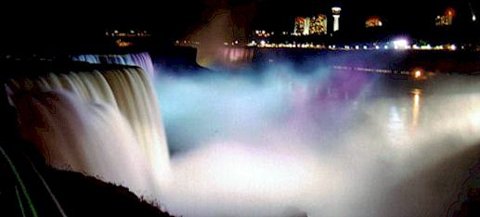 Don't miss the unmatched beauty of the Falls at night when the Falls are lit in the colours of the rainbow! It is indeed a great sight that can never seen at anywhere in the world. The falls at night is like a fairyland. The hue of the lighted Niagara Falls mesmerizes and seizes every visitor to stay hours at the brink of the falls.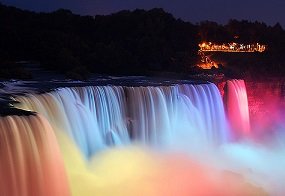 Currently a total of 21 Xenon lights are used to illuminate the Falls. In 1998, 18 of these new lights replaced older lamps and fixtures at the Illumination tower, doubling the intensity of the lights on the Falls without doubling the hydro bills. Each Xenon spotlight illuminating the Falls at night has a brilliance of 250,000,000 candlepower.
Funding for the year-round, Niagara illumination is provided by:

The City of Niagara Falls, New York
The City of Niagara Falls, Ontario
The Niagara Parks Commission
The Niagara Frontier State Park Authority of New York
Ontario Hydro
Illumination of the Falls has been Financed and Operated by The Niagara Falls Illumination Board since 1925.
Fireworks Displays
Who doesn't like a night with fireworks and how beautiful it is when they explode high above the sky? It is spectacular, a night with colourful firework displays high over the mighty falls!
The Ontario Power Generation Winter Festival of Lights officially starts with stunning firework displays every year. Special firework performances will be scheduled from the beginning till the end of the winter lights festival. Visit the Table Rock Complex near the brink of the falls as it is undoubtedly one of the best ever places to enjoy the firework displays. Visitors can choose from one of the many Niagara lodging options like falls view hotels, resorts, restaurants and campgrounds found nearby and enjoy fireworks from the warmth your hotel rooms.
Best spots for viewing fireworks in both sides of Niagara Falls:
Oakes Garden Theatre & Queen Victoria Park in the Canadian Side
Prospect Point in New York, USA or watch fireworks from the Rainbow Bridge
Note: Come early to enjoy the free concerts. Dates and times are approximate and subject to change. As always, Niagara Falls Firework performances are weather permitting and may be cancelled due to poor weather conditions like high winds or rain.