Niagara Falls State Park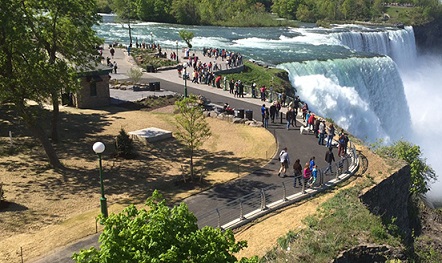 Niagara Falls State Park is created in 1885. It is the oldest state park in USA. Each year, millions of visitors from around the world visits this park to enjoy the natural thundering wonder of Niagara Falls, and the attractions in the park. The park is also a huge asset to the western New York economy, and serving as a top international tourism destination.
Niagara Falls State Park is an adventure-packed experience, with exciting sceneries, thrilling attractions, interactive exhibits, miles of hiking trails, and delicious dining options in a family-friendly environment.
All of our attractions and most footpaths are fully accessible, suitable for wheelchairs and excellent views of Niagara Falls.
Popular attractions within or near Niagara Falls State Park:
Niagara Falls State Park visitors Center: The park's Visitors Center which offers information, savings passes.
Niagara Scenic Trolley: The Niagara Scenic Trolley makes a complete circuit of the park approximately every 30 minutes. Your Scenic Trolley ticket is valid the entire day, so you can get off at any stop to explore at your leisure, then re-board to continue on to the next destination.
Cave of the Winds: Explore beneath the American Falls, navigating under the falls to the famous Hurricane Deck. You'll be surrounded by the thundering power of water cascading down.
Maid of the Mist Boat Tour:This world famous boat journey departs from the base of the Observation Tower at Prospect Point for a roundtrip into the churning waters of the American and Horseshoe Falls.
Niagara Gorge Discovery Center:With hands-on learning for all ages, the Discovery Center includes interactive displays and a multi-screen theater showing 12,000 years of the Niagara River.
Observation Tower:This 230-foot overlook provides the only U.S. location to view both the American and Horseshoe Falls. High-speed elevators provide access to the Gorge and boarding area for the Maid of the Mist.
Niagara Adventure Theater:Located on the lower level of the Visitors Center, see the film that takes you from the historic to the heroic in a re-creation of legends and real life.
Aquarium of Niagara:Located near the park's Discovery Center, this family favorite is home to more than 1,500 aquatic animals.
Niagara Falls State Park is open 24 hours a day, seven days a week, year round. However, park attractions are seasonal and have their own schedules.
Expenses & Tickets:
Admission to the park is Free! Visitors can enjoy the views, hikes, picnic areas and all that is Niagara Falls State Park.
The nearest Airport, The Buffalo-Niagara International Airport is approximately 30 miles from the park.
Address:
332 Prospect Street, Niagara Falls, New York 14301 Phone: (716) 278-1796 Website: www.niagarafallsstatepark.com