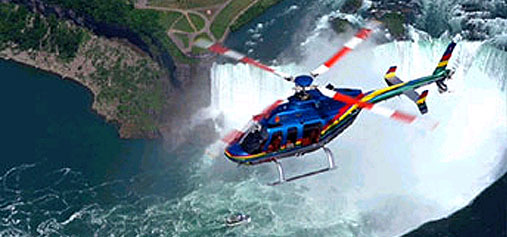 Niagara Helicopters, makes everything as in a dream. Now, join Niagara Helicopters with your kids and sweetheart for a thrilling helicopter tour. The turbulent rapids, greenery, historic places, vineyard, the helicopter sightseeing tours offered by Niagara Helicopters are unparalleled with spectacular sights.
In June 2015, Niagara Helicopters introduced their new fleet of spectacular Airbus H130 helicopters, offering unrivalled safety, comfort and visibility. The powerful Airbus H130 boasts more comfort and seating for up to seven passengers.
Last year the company flew over 100,000 passengers from all corners of the globe on our nine minute, 27 kilometer flightseeing tour over Niagara Falls.
Niagara Falls, is a place with both Nature and Man-made wonders. Take a helicopter ride through the scenic route of Niagara Falls. Niagara Helicopters are well-maintained and featured with recorded commentary, headphone etc. Reserve your flight coupons today, a great ride awaiting in Niagara Falls!
Niagara Helicopters Special Services Include
wheelchair access
film
high quality souvenirs
plentiful parking
snack bar
gift certificates
landscaped grounds
picnic area
buses welcome
major credit cards accepted
charter services


Individual headsets with taped commentary in various languages




Give Niagara Helicopters a whirl and experience the wonder!

Niagara Helicopters Limited
3731 Victoria Avenue
Niagara Falls, Ontario, Canada L2E 6V5
Telephone:(905) 357-5672
e-mail: weflyyou@niagarahelicopters.com