The Rapids Theatre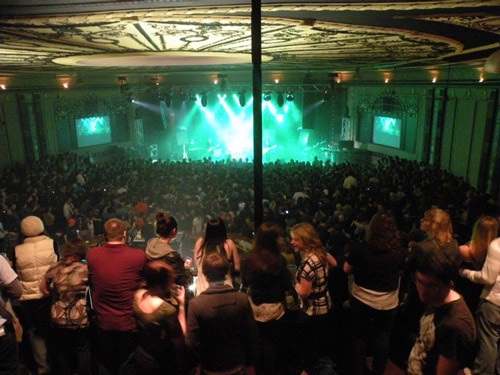 The Rapids Theatre in Niagara Falls, New York, is an indoor multi-function concert venue, just five minutes from the Canadian border. It is located near the Robert Moses Parkway in between the Whirlpool Rapids Bridge and Rainbow Bridge.
The beautiful and elegant Rapids Theatre is an example of creative craftsmanship. It hosts a variety of shows and events, including music concerts, comedy acts, wedding receptions, and corporate meetings. Some of the recent performances include Passion Pit, Stone Temple Pilots, Pauly Shore, Morrissey, City and Colour, Thirty Seconds to Mars, Snoop Dogg, The Band Perry, Dropkick Murphys, the Headstones, and Eric Church.
The Rapids Theatre was built in 1921. After changing its ownership several times, finally in 2007, the current owner John Hutchins, a native of Niagara Falls purchased the theatre. After massive renovations the "Rapids Theatre" came into being in 2009. The Rapids Theatre retains the royal feel of the Bellevue Theatre with its huge domed ceiling and grand balcony. The 19260 square-foot theatre building can seat 800 people and has standing space for 1,750 people during live concerts.
Welcome to the Rapids Theatre for some exciting entertainment.
Address:
1711 Main Street Niagara Falls, NY 14305
Phone: (716) 205-8925