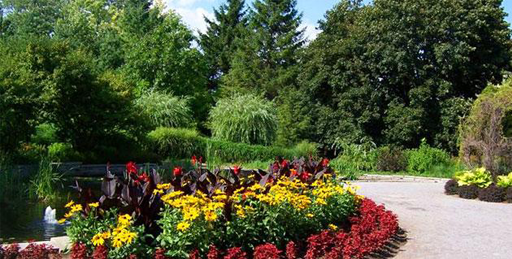 Visit the Floral Showhouse Niagara Falls. The Floral Showhouse is active with displays and flower shows throughout the year. Explore the entire Floral Showhouse and surroundings. The Floral Showhouse in Niagara Falls is one of the top chosen spot for special events, wedding photography and ceremonies.
Apart from flower displays, there are eight annual flower shows conducted in the Floral Showhouse every year.

Find different species of tropical plants, orchids and birds. Walk along the pathways, rest in the serene Floral Showhouse. This is something you will never get anywhere else in Niagara Falls.
Seasonal Annual Floral Shows
Spring Show - Mid of January to Easter days
Easter Shows during Easter weekend - 2 to 3 weeks long
Hydrangea Show - May
Regal Geranium - June
Summer Show - July to the Mid September
Reiger Begonia - Mid September till October
Chrysanthemum Flower Show - November
Christmas Flower Show - December
* Times are approximate. **Closed on Christmas Day.
Admission
$7.00 + Tax for Adults (13+), $4 + Tax for Children (6 and above). FREE for Children 5 and under
Season pass available for Ontario residents.
Address: 7145 Niagara Parkway, Niagara Falls, L2E 6X8
For more details : 905-354-1721 / 1 (877) 642-7275
Flower Shows | Annual Displays | Wedding | Trails