Find Leisure, Entertainment and Fun at Casino Niagara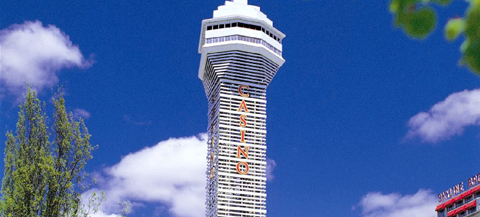 Casino Niagara, the one stop place for entertainment in Niagara Falls features everything ranging from dining to games and slots, live music to comedy! Come to the one and only Casino Niagara, the gateway to year-round entertainment and leisure in Niagara Falls. Casino Niagara features over 1,300 slot and video poker machines, including more than 350 progressive slots, on two action-packed levels.
Entertainments in Casino Niagara
Free shows every Wednesday at 3PM and 6PM.
Every Friday and Saturday from 9PM - 1AM - Free Live Music.
Every Thursday, Friday and Saturday - Yuk Yuk's is home to hilarious, live comedy every Thursday, Friday and Saturday nights.
Dining in Casino Niagara
Enjoy the wide array of dining options available at Casino Niagara;
Market Buffet dining option for everyday favourites!
Lucky's Steakhouse restaurant brings lip-smacking foods!
Quench Bar Stop and Taste your favourite cocktail!
Perks Cafe quick snacks corner brings wide selections!
Casino Niagara Fun Promotions
Silver Aces - Every Wednesday If you're 55 or older join Silver Aces! Every Wednesday from 12PM to 8PM we have live entertainment and exciting prizes available to be won!
Hot Slot - Every Monday, 2PM - 8PM Every 30 minutes patrons located at slot machines will be randomly chosen to win $100 in downloadable slot credits!
Divide or Conquer - Sep 9 - Oct 13 $50,000 in cash & downloadable slot credits available to be won!Draws take place each Thursday at 8:05pm.Swipe once daily from 8am Friday to 8pm Thursday and activate your ballots on Thursdays from 12pm - 8pm to enter.
Ladies Night - Every Friday Ladies, it's your chance to win exclusive prizes every Friday night at Casino Niagara. PAC Members swipe once each promotion day for their free ballot and entry for the Grand Prize Draw.
Date Night - Tuesdays after 4PM Tuesdays are Date Night at Fallsview Casino Resort's Grand Buffet and Casino Niagara's Market Buffet after 4pm.
Casino Niagara Facts, Hours & Parking
- Reserve 1-888-325-5788 ext. 21250
- You must be 19 years of age or older to enter the gaming area.
- All games must be played with Canadian currency.
- Currency exchange is available around the clock.
- For U.S. visitors: please note that Canadian immigration requires proof of citizenship. Passport or birth certificate is recommended.
- Entrances/Gaming facilities accessible for persons with disabilities.
- Casino Niagara open 24 hours a day, 7 days a week, 365 days a year.
- Valet and on-site parking is available. There is also convenient off-site parking with continuous shuttle service.

Contact and Get Directions to Casino Niagara