Explore the unbelievable 'R' World! From a real human shrunken head to Dinosaur eggs and holograms to interactive puzzles Ripley's Believe It or Not! Museum has something to amaze everyone. The truth really is stranger than fiction. This collection is part of a search for the strange, the odd and the unbelievable that took cartoonist and explorer Robert Ripley around the world. On your journey through 'Ripley's' world we dare you to enter the Vortex Tunnel or pit your wits against others as you try to open the Mystery Gate.
Know the difference! Ripley's Believe It or Not! is open year round including all holidays.
Ripley's Believe It or Not! Fun for Everyone!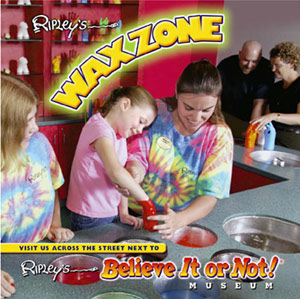 Create unique, one-of-a-kind wax impressions of your own hand, in a variety of colors and positions. Start with a cool dip and then layer by layer add wax. In just minutes your very own wax art is complete

Ripley's Niagara Falls
4960 Clifton Hill
Niagara Falls, Ontario
Canada L2G 3N4
Phone (905) 356-2238
Fax (905) 374-7345