DISCOVER THE RAGING WHITE WATER - THE WHITE WATER WALK
Down Stream from the falls the gorge has been cut deep and narrow by millennia of rushing white water. Trillions of gallons are forced through this accelerating trough, resulting in one of the wildest stretches of white water in the world.
Stroll alongside and marvel at the relentless power and beauty of nature. It takes your breath away.
DON'T JUST TAKE A WALK - HAVE AN ADVENTURE!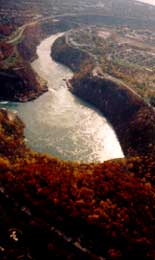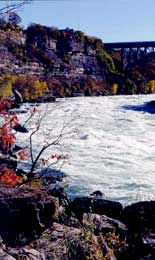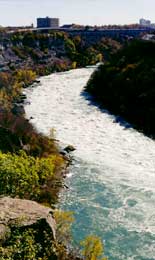 The White Water Walk
lets you stroll right next to the powerful, frothing rapids. Located in the Niagara Gorge 3.2 kilometres (2 Miles) down river from the Falls, the Rapids rage and roar on their journey into the Niagara Whirlpool
After a stroll along the 305 metre (1000 foot) long "White Water Walk" visit the IMAX Theatre and see the film: Niagara: Miracles, Myths and Magic where you can see a recreation of the Maid of the Mist's tumultuous ride through the rapids.