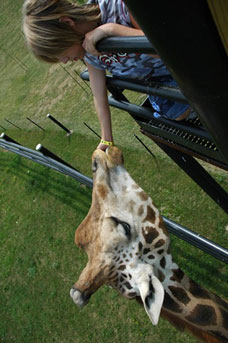 Have you ever come face to face with a hippopotamus?
Can you imagine nuzzling noses with a giraffe?
Want to hang out with a two-toed sloth?
You can at Safari Niagara
More than 1000 animals and birds are waiting to meet you at Safari Niagara, Niagara's Wildest Animal Adventure!
Safari Niagara is a 150-acre nature park located within a 10-minute drive from Niagara Falls, Canada and Buffalo, USA.
Safari Niagara features an incredible range of exciting, educational activities for all ages and abilities-from a petting park to children's playgrounds, Interactive animal presentations and feeding demonstrations, slash pad, fishing, paddle boating, playgrounds, Keeper Talks and one of Canada's largest steel sculpture exhibits! Bring a picnic or feast on a fantastic meal at our counter-service restaurant.
SPECTACULAR SHOWS & CONCERTS!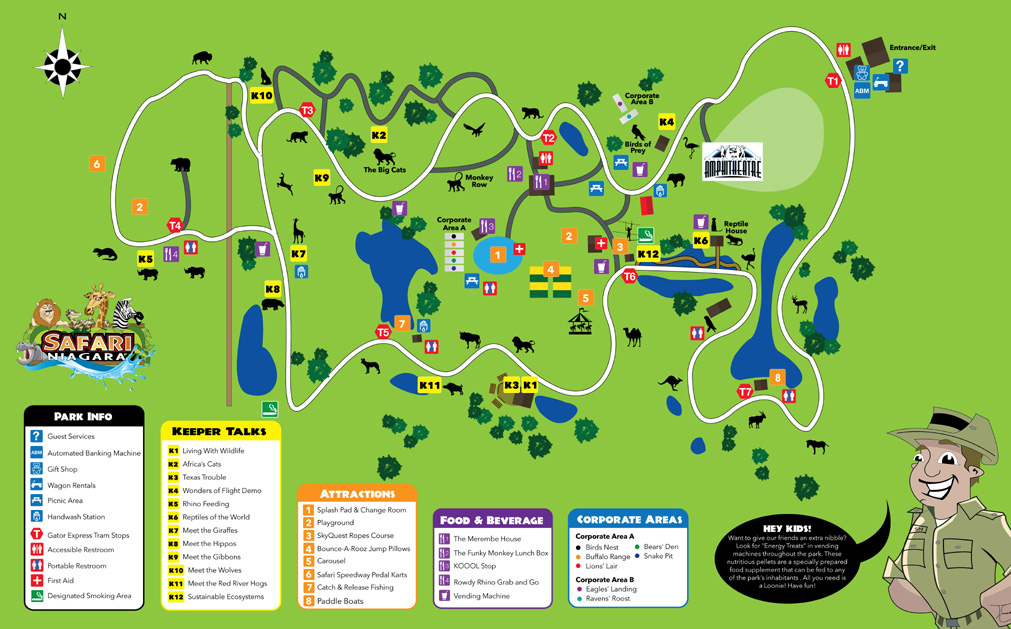 Safari Niagara has entertainment for all ages from live outdoor concerts to sky-soaring birds of prey presentations. Don't miss our Keeper Talks where you'll get familiar with Safari Niagara animals and their handlers for an interactive experience to remember. Come along on our guided tours featuring the big cats, primates and bears. Visitors can even try their hand at feeding a gentle Giraffe or a hungry Hippopotamus!
2019 HOURS OF OPERATION
MAY 18, 2019 – JUNE 14, 2019:--> 10:00AM – 5:00PM
JUNE 15, 2019 – SEPTEMBER 2, 2019:--> 9:00AM – 6:00PM
SEPTEMBER 3, 2019 – OCTOBER 11, 2019:--> 10:00AM – 5:00PM
OCTOBER 12, 2019 – OCTOBER 14, 2019:--> 9:30AM – 4:00PM
OCTOBER 15, 2019: --> Closed For The Season
VISITORS OF ALL AGES CAN EXPERIENCE THE SAFARI NIAGARA PARK THROUGH:
Educational, Narrated Tram Rides
Interactive, Educational Presentations
Educational Class Trips
Kids Birthday Parties
Behind-The-Scenes Packages
Live Concerts & Special Events
Safari Niagara Adventure Day Camp
Some of the seasonal activities available..
BOUNCE A ROOZ
CAROUSEL
CATCH & RELEASE FISHING
CHILDREN'S PLAY AREA
GATOR EXPRESS TRAM
PADDLE BOATS
PAPA STEVE'S FAMILY FARM
SAFARI SPEEDWAY
SKY QUEST ROPES COURSE
SPLASH PAD
WALK THROUGH BUDGIE EXHIBIT
SOMETHING FOR EVERYONE
Ziggy's Zoovenier shop is a perfect place to find unique gifts for everyone on your list. Plush animals, apparel, gifts, for everyone on your list. Plush animals, apparel, gifts, jewellery, games and more all with a wildlife conservation theme. Many of our items will be only available at Safari Niagara providing you with a one of a kind shopping experience. We also provide a variety of local, native and unique products.
On your way in or out of the park be sure to visit the Stevensville Garden Gallery! Located adjacent to the Safari Niagara parking area, this garden center and gift store offers an array of unique indoor and outdoor home and gardening items year-round.
Safari Niagara - Contact Details
Address: 2821 Stevensville Road Stevensville, Ontario L0S 1S0
Email: info@safariniagara.com Phone: (905) 382-9669
SAFARI NIAGARA COUPONS
Present this Coupons to receive $3.00 off on regular admission. Offer Valid to maximum of six people.