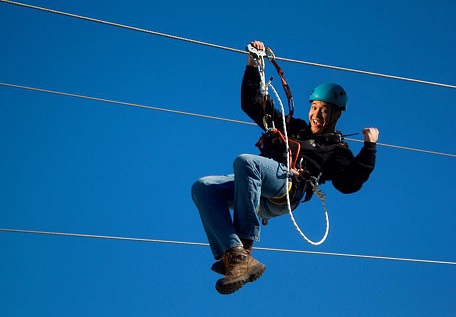 Niagara Falls Adventure Park is in Downtown Niagara Falls, NY, just blocks from Niagara Falls State Park. Niagara Falls Adventure Park offers dual racing zip lines, jump stations 60 feet off the ground, a challenging high ropes course as well as an adventurous Kids Zone.
Adventure activities:
1) Zipline Races
2) High Ropes Course
3) Daredevil Jump Zone
Zipline Races:
Niagara Falls Adventure Park's most popular attraction is the dual racing zip lines located outside on top of the Park's giant hill. Participants will zip down over 350 feet at speeds reaching up to 30 MPH. Ages 7 and up are allowed for Zip Line.
High Ropes Course:
Make your way through a series of platforms connected by cable, wood, and rope creating a different challenge at each platform. The high ropes course is a challenging activity. Navigate your way through our two high ropes courses - platforms, bridges and lanyards – high up above ground. Ticket quantities are for 1 hour each (i.e. Quantity: 1 = 1 hour). Ages 7 and up allowd for the Ropes Course.
Daredevil Jump Zone
Two jump stations located on the rear-top part of the hill allow you to jump off and free-fall five stories down the backside of the hill.
KIDS ZONE
Kids Zone is intended for kids under 7. This area complete with Jungle Gym and Bounce space.
Adventure Park Day Pass:
Save your money..Purchase Adventure Park Day Pass, which includes 3 zips, 3 Jumps, Ropes Course and unlimited attractions!
Address:
427 First Street
Niagara Falls, NY USA 14303
Email: ContactUs@NFAdventurePark.com
Phone: +1 (855) 744-3459
Website: http://nfadventurepark.com/