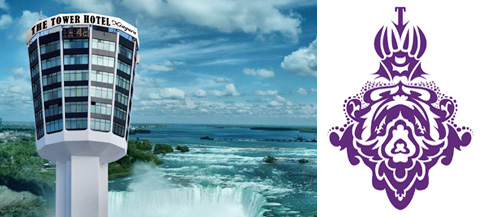 The Konica Minolta Tower Centre has been Niagara's landmark since 1962 and is a "must-see" attraction during your visit to Niagara Falls, Canada. It features an indoor observation deck, restaurant, wedding chapel, and hotel. The tower assumed its present name "Tower Hotel" in 2010 as a result of its most recent renovation. Still it is known by the name "Minolta Tower" among tourists and locals.
OBSERVATION DECK
The Konica Minolta Tower Centre was the first tower built in Niagara Falls and undoubtedly offers the best view of the Falls and the Niagara River.
The indoor Observation Deck atop the tower rises approximately 525 feet from the brink of the falls and provides a spectacular view day or night. The observation deck is now closed and only available for weddings. The Falls are illuminated nightly.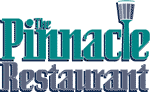 DINING ATOP THE Konica Minolta TOWER
The Pinnacle Restaurant atop the tower rises an impressive 525 feet above the Niagara gorge and provides a breathtaking view of the Horseshoe and American Falls.
Featuring an array of international cuisine, including Niagara's best steaks and seafood, our award winning and newly renovated restaurant has an exceptional menu which includes a variety of gourmet selections to suit every taste. Of course, children's menus are available as well.
View the American and Horseshoe Falls before the sun sets and take advantage of our Early Bird Dinner Special available at 5:00pm daily all year round.

HOTEL ACCOMMODATION
The Tower Hotel atop the Konica Minolta Tower Centre features unique hotel rooms with spectacular views of the American and Horseshoe Falls as well as the city of Niagara Falls. For family dining, children receive a menu designed especially for them. Dinner Menu
SHOPPING AT THE Konica Minolta TOWER COMPLEX
The Scotiabank Convention Centre is just two blocks away from the Tower Hotel.
The Konica Minolta Tower is open year round, seven days a week.
Contact:
6732 Fallsview Boulevard,
Niagara Falls, Ontario, Canada.
Tel: 905.356.1501
Toll Free: 1-866-325-5784