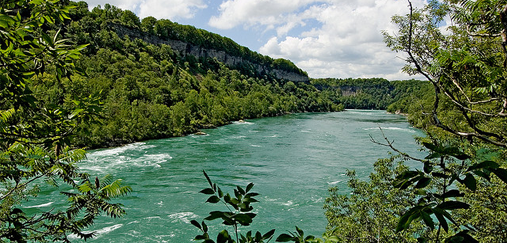 Niagara River
Originally the name "Niagara" was derived from the word "Onguiaahra" and a later version "Ongiara". Both are Indian words generally interpreted as "The Straight", although the romantic "Thunder of Waters" is also sometimes given.
The River is 56 kilometer (35 miles) long


Overall area of the River Niagara is around 684,000 sq kilometers


Elevation between Lake Erie and Lake Ontario is about 99 meters


Average fall from Lake Erie to the Upper Niagara Rapids is only 2.7 meters (9 feet)


The Canadian Horseshoe Falls, for the most part, fall 52 meters(170 feet) into the Maid of the Mist Pool


At the American Falls, the water plunges vertically, ranging from 21 to 34 meters (70 to 110 feet), to the rock at the base of the Falls


The Niagara Gorge extends from the Falls for 11 kilometers (7 miles) downstream to the foot of the escarpment at Queenston


The Power generating capacity at Niagara is about 4.4 million kilowatts (5 million horsepower)
The Niagara River Recreational Trail
The Niagara River Recreation Trail is 53 kilometers paved path that extends from the Canadian side of Niagara Falls through Queenston onto Niagara on the Lake. The Niagara River Trail was designed and intended for walkers, cyclists, runners and other non-motorized uses. Enjoy the beautiful Niagara River Recreation Trail by walking, running, on a bicycle or even on wheelchair. Admission to Niagara River Recreation Trail is Free.
Niagara River Fishing Spots
Niagara River is also one of the top fishing spots in Canada for steelhead, lake trout, walleye, etc. Considering the best spots for Niagara River fishing, there are two distinct fisheries - the Lower and Upper Niagara River. The lower part of Niagara River extends from the Devil's Hole to the Niagara Bar is a perfect spot for salmon, sturgeon and steelhead fishing. Some of the best places for lower Niagara fishing are - Artpark in Lewiston, Lewiston Landing Waterfront Park, Fort Niagara State Park, Joseph Davis State Park etc. Bird Island Pier, The Riverwalk, Fishermen's Park, Gratwick Riverside Park, Griffon Park Shore, Niagara Reservation State Park are some of the popular Upper Niagara River fishing spots.
The water of the river is used for drinking, recreational purposes like boating, swimming and fishing, hydro-power generation and for industrial needs.