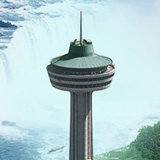 The Skylon Tower, one of the must visit attractions in Niagara Falls offers a never before experience. At 520 feet, the tallest building in Niagara Falls, the Skylon Tower creates a grand feast for its visitors. Enjoy spectacular views of the majestic Niagara Falls and surrounding areas over 80 miles.
The 'Yellow Bug' Skylon elevators take you atop the Observation Tower and the Revolving Restaurant and Dining Room within a few seconds. Skylon Tower Restaurant buffet will sure tempt you. While enjoying the Falls and the Great Gorge, eat yummy roasted beef or fresh seafood or continental food in the elegant setting of Skylon Tower Restaurant. Come to Skylon Tower Restaurant at night when the cataract lit up spectacular and fireworks explode high above the sky.

Remember to include the world famous attraction Skylon Tower in your list. The indoor and outdoor Skylon Tower Observation Decks offer excellent and spectacular views of the Falls that you can never experience anywhere else in Niagara Falls.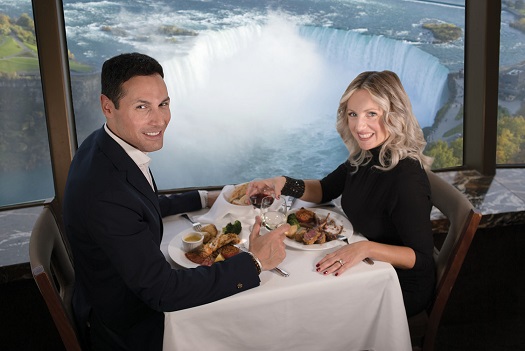 Other than Skylon Tower Dining, there are other entertainment options and infinite discount shopping available. Don't forget to get into the Family Fun Center located in the lower concourse of the Tower. With over hundreds of interactive games and rides, the Family Fun Center becomes the largest indoor entertainment center in Niagara Falls. The new 3D/4D theatre takes the Skylon Tower entertainment to the next level. Now playing 3D/4D movie "Legends of Niagara Falls"
Revolving Restaurant
Observation Decks
Skylon Shopping
3D/4D Falls Movies
The Skylon Tower was opened during the autumn season in 1964. There are three observation decks in the Skylon Tower and its special circular design makes it possible for all guests to enjoy without any obstruction. The Skylon Tower has three elevators which need 52 seconds to reach the top of the tower.
Sit and marvel at one of the world's greatest wonders! The Skylon Tower is an affordable family spot where you can find food, shopping and entertainment in one place. Open year round.

Skylon Tower
5200 Robinson Street
Niagara Falls, Ontario
Canada, L2G 2A3
Phone (905) 356-2651
Fax (905) 356-8699
Toll Free 1-877-4SKYLON
E-Mail infosky@skylon.com