Revolving Dining Room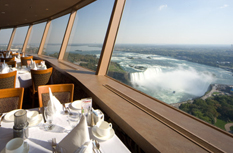 For those with a taste for the extraordinary Skylon Tower Revolving Dining Room simply must be experienced. Our award winning continental cuisine is presented in an elegant setting 775 ft. above the Falls. Lunch or dinner, the menu is rivalled only by the view, which you can appreciate at leisure (one rotation per hour). Dine by night and you'll discover the unique atmosphere created by the illumination of the Falls.
Hours of Operation
Lunch: 11:30 am to 3:00 pm (see details below) Early Dinner: 4:30 pm and 5:00 pm Dinner: from 6:00 pm to 10:00 pm
Early dinner specials are available at 4:30 and 5:00 pm daily.
Open for Sunday lunches in peak season only.
Note: Admission to our Ride-to-the-Top and Indoor/Outdoor Observation Decks are FREE when dining.