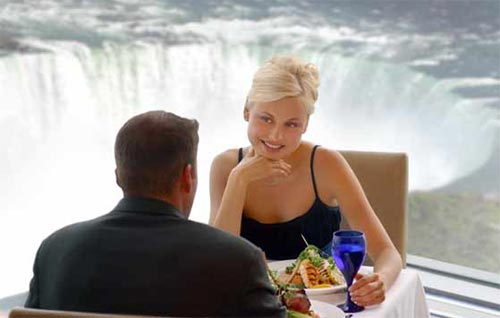 The Watermark Restaurant inspires with its view and appetizing menu. This one-of-a-kind rooftop restaurant will inspire awe and your appetite. Water theme design and decorum complete with two aquariums, 18ft windows, vault ceilings, wave entrance and soothing sounds. Best place to view the Fireworks over the Falls! Make your Dinner reservations at the Watermark!

Come enjoy a delightful experience you will not forget! Taste our luscious selection of fine continental cuisine. We feature a delectable assortment of breakfast buffet, lunch and dinner menus. Our special group tour menus offer delicious and affordable meals for the discerning taste. With private dining areas and multi-level seating, we provide only the best in prime dining comfort. Or join us in our stunning cocktail lounge and enjoy refreshing beverages and appetizers.

For Restaurant reservations call 905-353-7138.