The Watermark Restaurant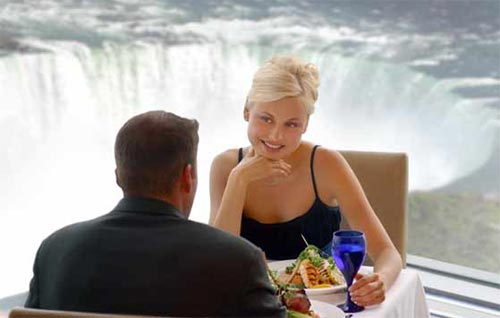 The Watermark Restaurant is located on the 33rd Floor of the Hilton Hotel & Suites Niagara Falls Fallsview.
The Watermark Restaurant inspires with its view and appetizing menu. This one-of-a-kind rooftop restaurant will inspire awe and your appetite. Water theme design and decorum complete with two aquariums, 18ft windows, vault ceilings, wave entrance and soothing sounds. Best place to view the Fireworks over the Falls! Make your Dinner reservations at the Watermark!

Come enjoy a delightful experience you will not forget! Taste our luscious selection of fine continental cuisine. We feature a delectable assortment of breakfast buffet, lunch and dinner menus. Our special group tour menus offer delicious and affordable meals for the discerning taste. With private dining areas and multi-level seating, we provide only the best in prime dining comfort. Or join us in our stunning cocktail lounge and enjoy refreshing beverages and appetizers.

Open Daily for Buffet Breakfast & Dinner Breakfast.
Saturdays, Sundays, and Holiday Mondays: 7:00am – 11:00am (No reservations for breakfast required. Seating is first come, first serve)
Dinner Nightly: 5:00pm – 10:00pm (Dinner reservations are recommended, seating limit 1hr 30mins)
Address: Watermark Restaurant,6361 Fallsview Blvd. Niagara Falls, ON Canada, L2G 3V9
For Restaurant reservations call 905-353-7138.
The Watermark Restaurant Menu
CUSTOMIZE YOUR DINING EXPERIENCE - SELECT ANY 3 ITEMS FOR $55 OR SELECT ANY 5 ITEMS FOR $65
SOUPS
Roasted Butternut Squash Soup
Chef's Daily Feature Soup
SALADS
Mixed Baby Greens with Herb Vinaigrette
Classic Caesar Salad with Shave Parmesan and Roasted Garlic Dressing
APPETIZERS
Sliced Smoked Salmon with Capers, Shaved Red Onions
and Honey Dijon Mustard Sauce
PEI Mussels Steamed in a Vodka-Tomato
and Basil Broth with Parma Ham
Panko crushed Camembert Cheese with Red Pepper Jelly
Chilled Gulf "Martini" Shrimp Cocktail
Fresh Crisp Fried Calamari with a Lemon and Basil Dip
Appetizer Platter for Two - Norwegian Smoked Salmon, Chilled Gulf Shrimp Cocktail, Fresh Calamari and Panko Crusted Camembert
MAIN COURSES
Grilled Beef Tenderloin with Roasted Pepper and Artichoke Butter Cabernet
Reduction Market Fresh Vegetables Garlic Whipped Potatoes
Grilled Beef Tenderloin and Baked Lobster Tail Garlic Whipped
Potatoes and Market Fresh Vegetables,
Double Roasted Prime Rib of Beef, Salt Crusted Baked
Potato Fresh Herb Jus and Market Fresh Vegetables
Fresh Fettuccine with Tiger Shrimp, Mussels and Sea Scallops in
a Basil and Garlic Sundried Tomato Sauce
Grilled Breast Chicken with a Forest Mushroom Demi,
Garlic Whipped Potatoes Market Fresh Vegetables
Grilled 10oz New York Steak with Charred Marinated Leeks
and Black Trumpet Jus, Salt Crusted Baked Potato and
Market Fresh Vegetables
Roasted Rack of Ontario Lamb, with Pommery Mustard, Merlot Jus,
Garlic Whipped Potatoes and Market Fresh Vegetables
Fettuccine Primavera
Fresh Fettuccine Pasta with Extra Virgin Olive Oil
and Julienne Vegetables
Roasted Atlantic Salmon with Golden Vegetable Caviar,
Red Pepper Cream, Watercress Coulis and Lemon Sticky Rice and
Market Fresh Vegetables
Daily Feature from our Chef's Repertoire
DESSERTS
Chocolate Fusion
White and Dark Chocolate Mousse with Fresh Berries and Raspberry Coulis
Apple Blossom
Fresh Baked Ontario Apple Pie Bundles with
Cinnamon Ice Cream served warm
Chocolate Fudge Cake
Served with Vanilla Anglaise...#1 Cake in Canada-Chatelaine Magazine
Chocolate Caramel Cheesecake
Served with Chocolate and Caramel Sauce
Bread Pudding
Traditional English Bread Pudding baked with Currants, Nutmeg
and Cinnamon served Warm with Scotch Whiskey Sauce
Ice Cream Truffle
Hand Crafted Ice Cream by "Gelato Fresco" served in a Crisp Pastry Cup with Fresh Berries
For Restaurant reservations call 905-353-7138.