RAINFOREST CAFE, NIAGARA FALLS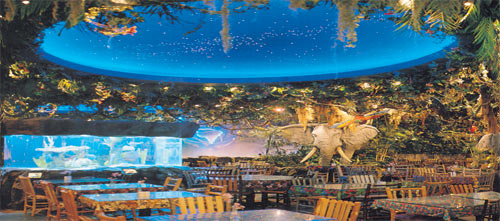 The Rainforest Cafe is a kid friendly restaurant located on the Falls Avenue Resort in Niagara Falls, Ontario, Canada.
The Rainforest Cafe offers a diverse menu that will please all members of your family. The combination of great food provided in a jungle like environment is a unique dining experience. There is a separate kid's menu for satisfying the taste buds of kids.
There are many kid friendly attractions and activities within walking distance of the Rainforest Cafe.
The Rainforest Safari experts provide interactive animal encounters. In addition to the animal encounters and animals on display, the Rainforest Cafe Niagara Falls also has a shark tank and tropical fish tank. As soon as you enter the restaurant you are welcomed by a 5500 gallon aquarium that is home to the White shark.
Hours of Operation :
The Rainforest Cafe is open 365 days a year for appetizers, lunch, dinner, dessert and drinks.
Address: 4915 Clifton Hill, Niagara Falls, Ontario, L2G 3N5, Canada
Phone: +1 905-358-2750