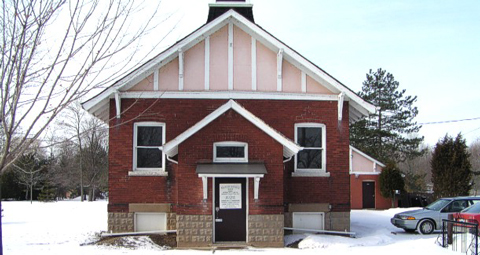 The Willoughby Historical Museum is housed in the Former S.S. #2 Willoughby, located at 9935 Niagara Parkway, in Niagara Falls, Ontario, Canada, at the intersection of the Niagara Parkway and Weaver Road.
Come inside the Museum and step back in time.
Hours of Operation are 12:00 p.m. to 5:00 p.m., weekends from Victoria Day to June 30th; Daily during July and August; Weekends from Labour Day to Canadian Thanksgiving.
The Museum is available for tours or research all year round by calling 1(905)295-4036. Admission to the Museum is by donation.
Artefacts on display at the Museum represent what is now the City of Niagara Falls, Canada, but was formerly the Township of Willoughby and the Village of Chippawa. The Museum was established in 1968 due to a perceived need to preserve a place and a way of life that was beginning to get lost. The Museum brings to life the rural history of one of the world's most recognizable places.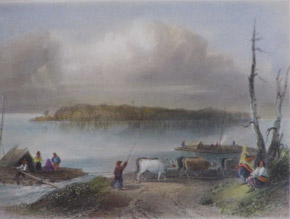 Bartlett's View of Navy Island Mid. 19th Century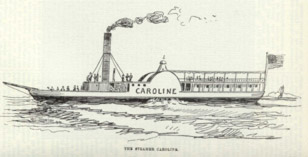 The Steamer Caroline as it would have appeared in 1837
Willoughby Historical Museum - Genealogy
The Willoughby Historical Museum has a wealth of genealogical information for researchers looking for their family's history. Researchers are encouraged to call the Museum and make an appointment to look into the archives of the Museum for their ancestors. For more information please call the Museum at (905)295-4036.
Navy Island
The Museum is located near Navy Island - a world nature preserve located in the Upper Niagara River.
Navy Island was the centre of a National Controversy during the Rebellion of 1837, when William Lyon Mackenzie, leader of the rebels, and 700 of his "Patriots", occupied Navy Island. It was here that one of the more famous incidents took place - The Burning of the Steamer Caroline. This supply ship, which was rented by Mackenzie was captured by the British forces on December 29th, 1837, was set on fire and was sent over the Falls.
Navy Island was also one of the locations considered for the United Nations when a "home" was being sought for it in the 1940's.
Willoughby Historical Museum
9935 Niagara Parkway
Niagara Falls, Ontario
L2E 6S6
Phone/Fax: 905-295-4036
info@willoughbyhistoricalmuseum.com
Find Lundy's Lane Historical Museum