We're conveniently located just 1 short block from the Maid of the Mist, Clifton Hill, and Casino Niagara in the Rainbow Bridge Plaza on River Road in Niagara Falls, Ontario.
Reg Wall, the colourful proprietor has been making fudge at the same location for over 36 years.
In addition to offering the standard assortment of refreshments, Reg's Candy Kitchen primary focus of activity is on making good old fashioned homemade fudge and peanut brittle.
18 Delicious flavours of homemade fudge!
Vanilla Walnut
Vanilla Plain
Maple Walnut
Maple Plain
Chocolate Walnut
Chocolate Plain
Chocolate Mint
Chocolate Peanut Butter
Rum-n-Raisin
Rocky Road
Chocolate Marshmallow
Oreo Cookie
Baileys Irish Cream
Butterscotch
Peanut Butter
Chocolate Pecan
Chocolate Orange
Armaretto

Reg Wall Would Like to Invite Everyone!
I would personally like to welcome everybody visiting Niagara Falls to stop into our candy kitchen and watch me make good old fashioned homemade fudge.
Our guests are welcome to photograph or video tape the whole experience. I'm sure you will find the whole experience rather rewarding.
Our shop is just a very short walk from the Maid of the Mist along river road, directly under the Rainbow Bridge.
Many of our past customers have written us letters telling us how much they enjoyed our fudge and asked us to send them some more products in the mail.
That is basically the inspiration for this website. We now have the mechanism for all our past customers to visit us on-line and place orders for our custom made fudge and peanut brittel. We also ship imported European liquor candy!
I thank you for your time and look foward to meeting you in the Candy Kitchen. &nbsp &nbsp &nbsp &nbsp &nbsp &nbsp ... Reg Wall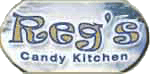 Reg's Candy Kitchen
Rainbow Bridge Plaza
Niagara Falls, Ontario
Canada L2G 3K9