Balls Falls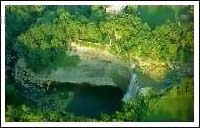 Ball's Falls is a pearl suspended on the string of the Bruce Trail. Once an early 19th century hamlet, this site, perched on the edge of the escarpment, features an operational mill, two waterfalls, numerous historic buildings, and lovely nature trails.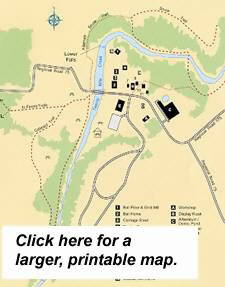 To reach Ball's Falls, exit the Queen Elizabeth Highway at Vineland. Follow Victoria Avenue (Highway 24) south to Regional Road 24, where you turn eastward and travel to Ball's Falls.
Restored and maintained by the Niagara Peninsula Conservations Authority, the site occupies over 80 hectares (200 acres) of the original 480 hectares (1200 acres) purchased by the Ball brothers. George Ball constructed grist, saw, and wool mills, which lead to the growth of one of the first communities in this area. The hamlet was known as Ball's Mills, Louth Mills, Glen Elgin, and finally as Ball's Falls because of the two delightful cataracts on the property. In the mid 1800's, however, significant developments such as the railway and the Welland Canal led to the rapid growth of other villages below the escarpment, and by the turn of the century, most of the activity at Balls Falls had ceased.
Ball's Falls has been lovingly restored to its early 1800's atmosphere and now features an operating flour mill, a lime kiln, a church, family home, blacksmith shop, carriage shed, and more. In addition to its historical interest, Ball's Falls is also a centre for nature activities, offering a tremendous diversity of flora and fauna as well as excellent exposures of geologic strata.
The Bruce Trail passes through the very north end of the conservation area to the north of the lower falls. Hikes along the Bruce Trail either to the west or the east can be made from this location.
Our favourite trail at Ball's Falls is the Cataract Trail, which starts from the west side of the bridge across Twenty Mile Creek and meanders in a loop to the Upper Falls and back. One leg is along the Creek and the other is inland, offering a wide range of plant species and scenery. The falls tumble delightfully over high cliffs and can be viewed at close proximity from above or below. The character of the falls changes dramatically with the seasons, ranging from a raging torrent in the spring to a thin veil in late summer.
Other trails provide access to view the Lower Falls and to explore the rest of the conservation area. Wedding in Balls Falls Memorial Chapel - Jordan 40 minutes from the Falls
Find more entertainment, attractions and things to do in Niagara Falls and reserve your tickets today!