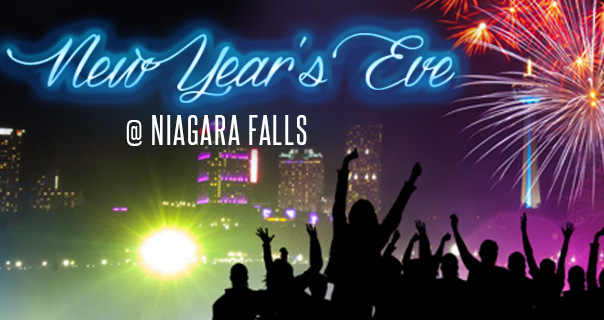 New Year's Eve Celebration at Niagara Falls on December 31, 2017 at 8.00pm
Celebrate New Year's Eve on Dec 31, 2017 in Niagara Falls, Canada's largest FREE New Year Eve Extravaganza, is indeed a great event to ring in. The New Year's Party on December 31, 2017 begins at 8:00pm at Queen Victoria Park featuring exciting musical entertainment by renowned bands and artists.
Come and greet thousands of your friends at Canada's most favorite Free New Year Eve Show in Niagara Falls! Ring in the New Year at Canada's biggest FREE New Year's Eve Extravaganza on December 31st 2017 at Queen Victoria Park. There are two spectacular New Year Eve Fireworks Displays that will take place at 6:40 PM and 7:40 PM (times may vary). The winter fireworks schedule will also include weekly fireworks shows at 9:00 PM every Friday night until January 31st, 2017. Nightly fireworks will take place from December 23rd to December 29th at 9:00 PM. . The show will go live on Global and CanWest.
Don't miss this magical special New Year Eve Extravaganza. Join us at Queen Victoria Park for a grand-style year-end celebration and celebrate the majestic Winter Festival of Lights! The outdoor celebration also features a variety of food and beverage options.
Performers of the the Niagara Falls New Years Eve extravaganza.
Stay tuned to hear this year's line up!
If an outdoor New Year's Eve Concert isn't your style, many Niagara Falls establishments host fantastic New Year's Eve events. Book your accommodations now for the premiere New Year's Eve event in Canada!
If you are looking for other new year eve ideas. Choose Canada's must see musical attraction Oh Canada Eh? New Year's Eve Bash . It features New Year Eve Show, dinner, party favours, champagne toast and more! Get ready to join New Years Eve Bash on December 31, 2017 at 7:15pm.
Choose Greg Frewin Theatre to celebrate a Las Vegas Style New Year's Eve this year. Enjoy an evening with full of Comedy and Illusion.
The evening starts with a cocktail reception at 6:30 PM. Indulge in our delicious premium buffet dinner starting at 7:30PM and our Las Vegas style WILD MAGIC Show will commence at 9:00PM. Ring in the New Year with Jonesy at 11:00PM as they play your favourite hits of the 70's, 80's and 90's.