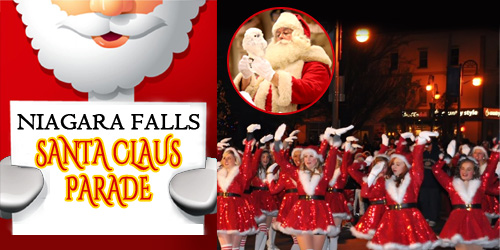 Saturday, November 17, 2018@ Downtown, Niagara Falls, Ontario, canada
The Niagara Falls Santa Claus Parade is on Saturday, November 17, 2018 at 11.00 am. It has been recognized by Festivals & Events Ontario as one of the Top 100 Festivals & Events in Ontario. The parade is covered by numerous television and radio stations, local newspapers.
Niagara Falls Santa Claus Parade: Time: 11:00 am to 12:30 pm.
The Parade Route begins at 11:00 am on Victoria Avenue at Armoury Street, and travels north along Victoria Avenue, turning right onto Valley Way, right onto Queen Street and ending just past Niagara Falls City Hall.
The Santa Meet & Greet is from 12:45 pm to 2:30 pm in front of City Hall (4310 Queen Street, Niagara Falls) Hall.
In addition, the parade will feature feature fabulous marching bands, Superheroes, Stilt Walkers, amazing Niagara Falls High School floats, and more!
During the Parade: The Salvation Army will be giving away free hot chocolate at the Rosberg Family Park (Queen & Erie). Free Face Painting, Balloons and Caricatures at Bella's Café beside City Hall. Canada Post will be collecting letters to Santa along the parade route. Remember to include a return address, so Santa can answer your letter! Project SHARE will be collecting food donations along the Parade route.
Admission : Free
For more information call: (905) 356-7521 EXT 3332