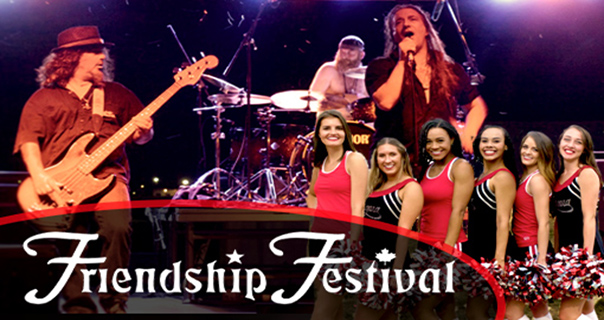 July 13 to 16, 2017 Mather Park, Fort Erie, Ontario, Canada
The 31st annual friendship festival will be celebrated this year from July 13 to July 16. The Friendship Festival has been listed as one of the top ten festivals in Canada by Canadian National Geographic, is a festival of music, fun and entertainment. The friendship festival intends to promote tourism and cultural activities. Everybody is cordially invited to the free friendship festival concerts and events conducted in Fort Erie, Ontario.
The summer friendship festival delights thousands of people of all ages with a variety of events, which span from free concerts to talent shows, children area, food and more.
Dates & Timing
Opening Day, July 13, 2017, Thursday 5pm - 11pm 14th & 15th July 2017, (Friday & Saturday) - 11am - Midnight July 16 2017, Sunday - 11am - 11pm
Concerts:
14th July 2017, (Friday)
7:00pm: Under the Influence – ORIGINAL MUSIC
9:00pm: Canadian XSports - features an all-star tribute to the greatest Canadian bands and songs
11:00pm: Greenwater Revival - North America's most authentic sounding CCR tribute band
15th July 2017, (Satruday)
6:30pm: Sunset Strip – enjoy some classic 80's music
8:30pm: Neo Young - A Tribute to Neil Young
10:15pm: Hotel California - The Original Tribute To The Eagles
Event Admission: Free
For more details:Phone: (905) 871-6454 Website: www.friendshipfestival.com