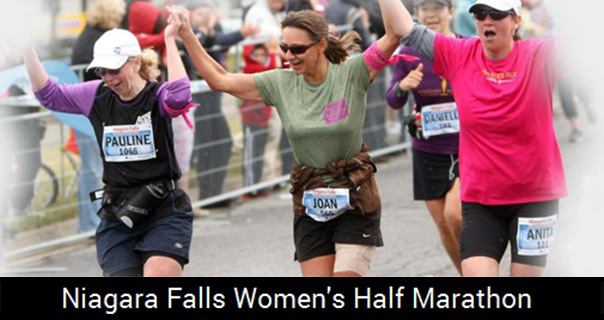 Niagara Falls Women's Half Marathon & 5K, June 2, 2019
@ Niagara Falls
The Half Marathon (21.1 km)
The Niagara Falls Women's Half Marathon in the beautiful Niagara region will provide a fun and memorable road trip. Run or walk past The Falls TWICE!, through the Niagara Parks, past the churning rapids, and out and back along the mighty Niagara River.
Join women from many places and many backgrounds, all with a common goal. Reward yourself with the Niagara Falls Women's Half Marathon and make Sunday, June 2, 2019 the date you will achieve greatness. Running or walking a Half Marathon is an incredible accomplishment.
Age Groups:
19 and under 20-24, 25-29, 30-34, 35-39, 40-44, 45-49, 50-54, 55-59, 60-64, 65-69, 70 and over.
Participants will be provided with Numerous discount coupons to increase your enjoyment of the Niagara area. Also don't forget the unique finisher's medal presented to every runner and walker completing the half marathon distance.
Course Time Limit : The course will be closed after four hours to allows for a pace of 18:20 minutes per mile.
Women's Half Marathon Niagara Falls - Awards & Prices:
The first three runners to finish will be recognized with prizes. Every runner or walker who finishes the 21.1km distance you will receive a unique and beautiful medal.
Age Requirements : There is no minimum or maximum age limits.
Before or after the event, you may enjoy an early June getaway in this world famous destination. Grab a Niagara Parks Commission Adventure Pass and enjoy their scenic attractions. There are many hotel and wineries awaiting you and your friends and families.
Niagara Falls and Niagara-on-the-Lake offer an unending variety of restaurants and many of them provides attractive discounts.
Plan to arrive by 6:30 am at the start/finish line located at Upper Rapids Blvd at Portage Road, Niagara Falls, Ontario - across from Marineland.
THE START @ 8:00 am - Music, Drum Line, Biker Sisters and adrenaline. Kathrine Switzer leads the cheering as everyone crosses the Start Line.. Meet women from 10 provinces, 29 states and 6 countries.
A 5K event - NEW
If a Half Marathon doesn't fit for you, choose the new 5K event. You will be able to run/walk 5K in no time.
Packet Pickup:
@ Gale Centre,5152 Thorold Stone Rd, Niagara Falls, L2E 0A0, Canada.
Packet Pickup Times: Friday May 31, 2019 --> 12:00 pm - 7:00 pmSaturday June 1, 2019 --> 10:00 am - 4:00 pm Sunday June 2, 2019 --> 6:00 am - 7:00 am (at our tent located at the Start/Finish area)
Accommodation:
Book your accommodations in advance. See the best Hotels in Niagara Falls.
Parking:
Over 1400 parking spots within 400 metres of our Start/Finish area. $10.00 per car.
Note: The Niagara Falls Women's Half Marathon will be capped at 3,000 entrants. Register soon...
For enquiries call: call 905-401-3344. or Email: ross@nfwhm.com
For booking tickets, visit website:- nfwhm.com
Please see the route map of the Marathon ( 21.1 & 5K )