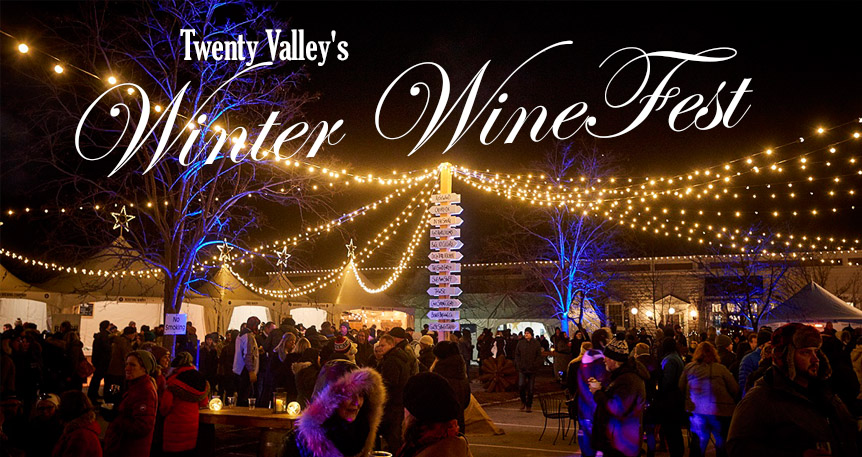 January 13 to 15, 2017.
Jordan Village, Main Street, Jordan Ontario Canada
Twenty Valley's Winter WineFest
brings together Niagara's top winemakers, chefs and premium VQA wines. Offering great food, premium wines, sparkling and Icewine served outdoors on the streets of pretty little Jordan Village. Sample delicious wines from more than 20 of Twenty Valley's premium wineries.
Partcipate and enjoy this Winter WineFest, in Niagara's Twenty Valley, Ontario's largest wine region.
DATE & TIMING
FRIDAY January 13, 2017. The Winter WineFest 2017 starts.
Wine & Culinary Village is open from 6:00PM to 9:00PM (Free Admission) Ultimate After Party 9:00PM to 12:00AM ($10) limited tickets available.
SATURDAY: Wine & Culinary Village is open from 12:00PM to 9:30PM (Free Admission)
12:30PM - Chef's One Pot Challenge with host Kristen Eppich of House and Home Magazine and our 2017 Celebrity Chef 2:00PM - Jordan Village Fashion show 3:30PM - Roll out the Barrel's - Twenty Valley's own Barrel Rolling Competition 4:30PM - One Pot Challenge finals and tasting Sparkling Dinner - 6:30PM - $125pp. (+HST) limited seats available
SUNDAY: Wine & Culinary Village is open from 12:00PM to 4:00PM (Free Admission)
2:00PM - Jordan Village Fashion show 3:30PM - Icewine Puck Shoot Out! Sign up at 3:00PM and tell the tale, frozen pucks made from freshly pressed Icewine grapes... Icewine Brunch- 10:30AM - $75pp. (+HST) limited seats available
Contact No: (905) 562-3636
For more details visit website: www.20valley.ca