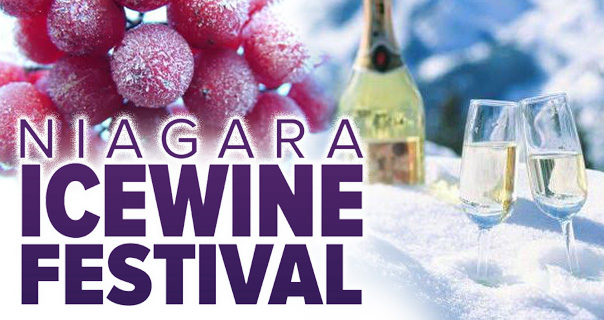 Niagara Icewine Festival 2020
@ Niagara Region, Ontario, Canada. January 10–12, 17–19 & 24–26, 2020
Niagara Celebrates Icewine Festival From January 10–26, 2020, celebrate winter in wine country with the Niagara Icewine Festival!
A unique Canadian winter festival, celebrated over three weekends in January. (January 10–12, 17–19 & 24–26, 2020)
The Niagara region welcomes you to raise a glass of one of Canada's most cherished products, Ontario Icewine. Niagara Icewine Festival offers delicious food, wine and live entertainments.
Niagara Icewine Gala
@ Fallsview Casino Resort, 6380 Fallsview Blvd, Niagara Falls, Ontario, Canada, on January 10, 2020 7:00pm - 10:00pm
Experience the elegant Niagara Icewine Gala, showcasing the most luxurious Niagara wine & culinary at the Fallsview Casino Resort.
You will be welcomed by over 35 wineries pouring their award winning Icewines. Dance the night away at this all-inclusive evening of elegance, fine wine, and the best in Niagara culinary at the 24th Niagara Icewine Gala.
Niagara Icewine Festival Discovery Pass Program
January 10–12, 17–19 & 24–26, 2020
The Discovery Pass is the ticket to eight unique food & wine pairings at your choice of over 40 wineries across the Niagara Region. Over three weekends in January, you'll have the chance to experience the best of the winter harvest! 40 wineries have created special wine and culinary experiences that celebrate the season.
Your Discovery Pass is valid for all 9 days, so use the Discovery Pass Map to plan a route that leaves you plenty of time to learn about the wines in the pairing and taste additional wines while you travel. It is better to plan one day in Niagara-on-the-Lake and another in Twenty Valley to get a full taste of Niagara.
Tickets:
Icewine Festival Discovery Pass (January 10–12, 17–19 & 24–26, 2020 11AM–5PM)
Discovery Pass - $45
Driver's Pass - $35
Participating Wineries:
13th Street Winery
Alvento Winery
Creekside Estate Winery
Ferox
Fielding Estate Winery
Flat Rock Cellars
Harbour Estates Winery
Henry of Pelham Estate Winery
Hernder Estate Wines
Inniskillin Wines
Jackson-Triggs Niagara Estate Winery
Kacaba Vineyards Winery
Konzelmann Estate Winery
Lailey Winery
Lakeview Wine Co.
Legends Estates Winery
Lundy Manor Wine Cellars
Magnotta Winery
Malivoire Wine

Marynissen Estates Winery
Megalomaniac
Niagara College Teaching Winery
Nomad at Hinterbrook Estate Winery
Palatine Hills Estate Winery
Peller Estates Winery
Pillitteri Estates Winery
PondView Estate Winery
Redstone Winery
Reif Estate Winery
Riverview Cellars Estate Winery
Rockway Vineyards
Strewn Winery
Sue-Ann Staff Estate Winery
Tawse Winery
Trius Winery
Vignoble Rancourt Winery
Vineland Estates Winery
Wayne Gretzky Estates Winery & Distillery
Note: This event is 19+
Contact: Niagara Grape & Wine Festival 8 Church Street, Suite 100 St. Catharines, L2R 3B3 Phone: (905) 688-0212 Website: www.niagarawinefestival.com

Popular Upcoming Events in Niagara Falls