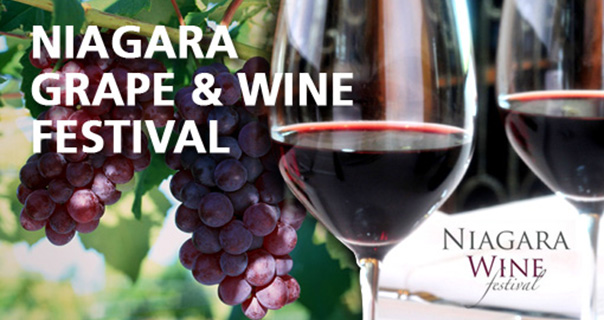 September 14 - 29, 2019.
It is all about Niagara and wine. Niagara Grape & Wine Festival 2019 is from September 14 to Sept 29, 2019. This is Canada's largest celebration of wineries and vineyards. There will be more than 100 events including winery tours and tastings, concerts, Niagara cuisine, street parades, wine seminars and live entertainments. Niagara Wine Festival is growing bigger every year.
It is really worth to visit the Niagara Region in the coming September and attend the Niagara Wine Festival.
Experience regional cuisine presented by top local chefs and sip and savour VQA wines while enjoying Canadian talent on the Centre stage.
Dates & Timing : Sep 14th 11:00 am to Sep 29th, 2019 11:00 pm
Important 2019 dates:
Discovery Pass program: September 14-15, 21-22, 28-29
Montebello Park: September 20-22, 27-29
Pied Piper Parade: Saturday, Sept 21 – 11:00am
68th Annual Meridian Grande Parade: Saturday, Sept 28 – 11:00am
Admission:
The Niagara Grape & Wine Festival is a FREE admission event! Wine and food can be purchased using tokens. Each token costs $3.50 (incl. HST).
Note: Montebello Park is a pet-free zone. Please leave your pets at home.
Discovery Pass
Sept 14-15, 21-22, 28-29
Fall in love with Niagara and explore its lush vineyards! There's no better way to experience Niagara's beauty than the Discovery Pass. Each Discovery Pass entitles you to 8 wine and culinary experiences designed by winemakers and chefs to celebrate the fresh flavours of harvest, and can be redeemed at 8 of 30 participating wineries across Twenty Valley and Niagara-on-the-Lake!
*Discovery Pass tickets are $45 +HST and include 8 wine and food pairings at participating wineries.
*Drivers Pass tickets are $35 +HST which includes 8 culinary pairings with a non-alcoholic beverage.
*Your Discovery and Drivers Pass is valid anytime during Sept 14-15, 21-22 and 28-29.
For more details: call (905) 688-0212
Address:Ontario St & Montebello Park, St. Catharines, Ontario, Canada
Website: www.niagarawinefestival.com