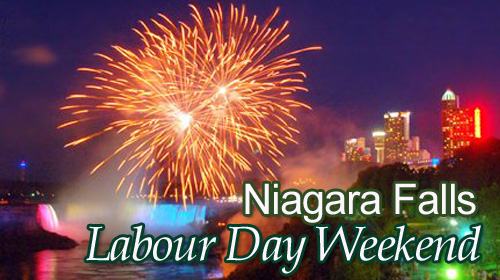 NIAGARA FALLS LABOUR DAY
September 2, 2019
@ Niagara Falls, Ontario, Canada
Labour Day is celebrated in both Canada and the United States on the first Monday of September. (September 2, 2019).
Canadians celebrate their three day long weekend by getting away with the family or friends or going for a sight-seeing trip or by exploring the many attractions in and around Niagara Falls.
The whole family can Explore the Niagara Region for countless attractions and events taking place all weekend long.
Must-see Labour Day events around Niagara Falls
Hornblower Niagara Cruises
Labour Day weekend is the perfect time to visit Hornblower Niagara Cruises.
You may choose any one of the boat rides to the Falls.
Voyage to the Falls Boat Tour (day time – 20 minutes
Voyage to the Falls Evening Boat Tour – 20 minutes
Falls Illumination Cruise – 40 minutes
Falls Fireworks Cruise – 40 Minutes
'Falls Fireworks Cruise' operates on Fridays, Sundays and on Labour Day Monday.
Fireworks over Niagara Falls
Niagara Falls fireworks shows will resume daily at 10 p.m.
Niagara Speedway (on Clifton Hill)
Niagara Speedway is one of Niagara's newest summer attractions. This elevated outdoor go-kart course is the first of its kind in Canada and features a 4-storey helical spiral followed by a 2-tiered coaster style ramp.
Marshville Heritage Festival
The Marshville Heritage Festival at Heritage Village will run Saturday through Monday. It is family event apt for children of all ages, which includes car shows, displays, music, food and many more.
CLIFTON HILL Attractions
World-class attractions within walking distance.
The best way to experience all the top attractions on Clifton Hill is with the 6 Attraction FUN PASS! A great way to save money..
Zombie Attack
Wild West Coaster
Movieland Wax Museum
Ghost Blasters Dark Ride
Dinosaur Adventure Golf or Wizards' Golf
Also Clifton Hill offers all-new Niagara Speedway go-kart track, which combines go-karting with the excitement of an elevated coaster styled track, WildPlay's MistRider Zipline to the Falls located at the bottom of the street, plus plenty of stores and entertainment venues.
Popular Upcoming Events in Niagara Falls