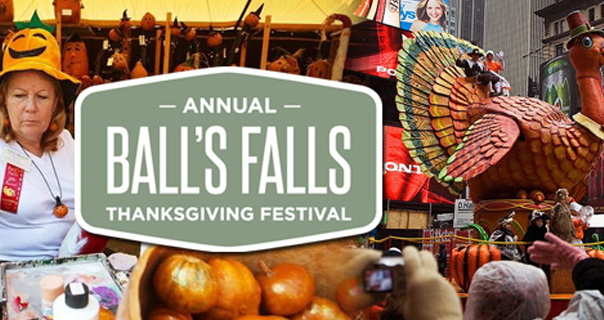 BALL'S FALLS THANKSGIVING FESTIVAL
@ Ball's Falls Conservation Area, 3296 Sixth Avenue, Lincoln, Ontario, Canada. October 9 - 12, 2020
The 46th Annual Ball's Falls Thanksgiving Festival featuring more than 150 selected artisans displaying and selling their creative wares such as pottery, paintings, jewelry, ornaments and clothing.
Enjoy live entertainments everyday.Children's activities and numerous heritage displays will keep visitors engaged.
The event is a major fundraiser for the Niagara Peninsula Conservation Authority (NPCA).
Date & Timing :
October - 9th (Friday) to 12th (Monday) 10AM to 5PM Daily
A List of Entertainments, awaiting you:
Parking & Shuttle Information:
Complimentary Parking is provided for all Festival guests.
Accessible Permit Parking is available at our main entrance, on production of their Accessible Permit.
Shuttle Services are also provided complimentary from the Shuttle Stations in the parking lot to the festival gates. Shuttle services end at 5:30pm each evening.
Note: Pets are not allowed
Contact No: (905) 562-5235
Email: thanksgivingfestival@npca.ca
To learn more about the Partcipating Artisans and their product categories please visit the website.
www.thanksgivingfestival.ca