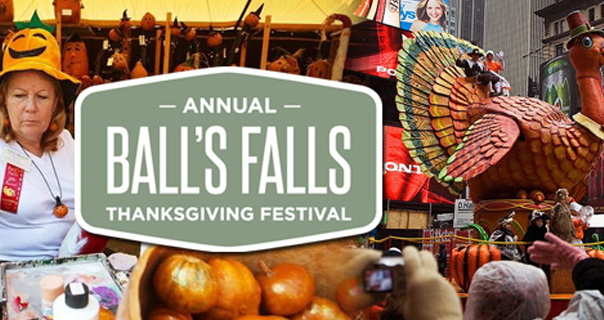 The 43rd Annual Ball's Falls Thanksgiving Festival featuring more than 150 selected artisans displaying and selling their creative wares such as pottery, paintings, jewelry, ornaments and clothing.
@ Ball's Falls Conservation Area, 3296 Sixth Avenue, Lincoln, Ontario, Canada. October 6 - 9, 2017
Enjoy live entertainments everyday.Children's activities and numerous heritage displays will keep visitors engaged.
The event is a major fundraiser for the Niagara Peninsula Conservation Authority (NPCA).
Date & Timing :
October - 6th (Friday) to 9th (Monday) 10AM to 5PM Daily
List of Entertainments:
Friday
Rebecca Reeves 11am
Cory Cruise 12pm
Scoop McCoy 1pm
Kids Karaoke 2pm
The Mudslingers 3pm
Ryan Langdon 4pm
Saturday
Jessica Wilson 11am
Rich Cloke 12pm
Frank & Jay 1pm
Kids Karaoke 2pm
Lindsay Brohan 3pm
Josh Ross 4pm
Sunday
Judi Rideout 11am
Elton Lammie 12pm
Scoop McCoy 1pm
Kids Cupcake Eating Contest 2pm
Jessie T 3pm
Kentucky Rails 4pm
Monday
Ron Whitman 11am
J. P. Yantha 12pm
Courtney Bowles 1pm
Kids Karaoke 2pm
Wendy Lynn Snider 3pm
Brad Battle 4pm
Tickets Information:
Tickets are available at the gate.
Children under 14 are free when accompanied by an adult.
Tickets are $6 per person
Friday only-$2 off for Seniors.
Parking & Shuttle Information:
Complimentary Parking is provided for all Festival guests.
Accessible Permit Parking is availabe at our main entrance, on production of their Accessible Permit.
Shuttle Services are also provided complimentary from the Shuttle Stations in the parking lot to the festival gates. Shuttle services end at 5:30pm each evening.
Note: Pets are not allowed
Contact No: (905) 562-5235
To learn more about the partcipating Artisans and their product categories please visit the website.
www.thanksgivingfestival.ca