Niagara Falls Wonder Pass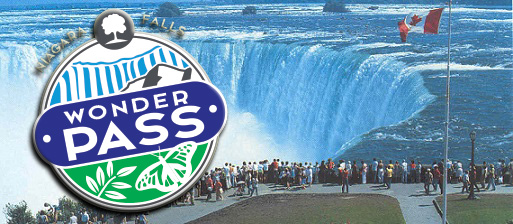 The Niagara Falls Wonder Pass is a package of popular Niagara Parks attractions. Niagara Parks offers many exciting adventures and activities for the entire family all year long.
Wonder Pass is one of the best options to discover the Wonder with the Niagara Falls. Each Pass includes one-time admission to four top Niagara Falls attractions, transportation & much more. Niagara Falls Wonder Pass is valid only on the Canadian side of Niagara Falls.
Wonder Pass includes admission to:
Journey Behind the Falls Journey Behind The Falls, enjoy the thunder of the waters, a completely different perspective from behind the Niagara Falls!
Niagara's Fury Discover the ancient story of Niagara Falls, then re-live the exciting experience at Niagara's Fury! The moving platform beneath your feet will help you understand the power of Nature, while you are surrounded by stunning visuals along the mighty Niagara River.
Butterfly Conservatory This magical attraction features over 2,000 colourful tropical butterflies floating freely among lush, exotic blossoms and greenery.
Floral ShowhouseThe Floral Showhouse is active with displays and flower shows throughout the year.
WEGO Bus Access (2 Days) WEGO is a convenient visitor transportation system that connects Niagara Parks attractions as well as other tourist areas with your hotel. Three Separate Lines come together (For WEGO Hub part) at the brink of the Horseshoe Falls, at Table Rock Centre. Take WEGO and travel everywhere you need to go for 2 days.
Unlimited access to the Falls Incline Railway for two consecutive days.
By purchasing the Niagara Falls Wonder Pass you will save 60% on top Niagara Falls attractions.
Exclusive benefits for Wonder Pass holders at Niagara Parks restaurants, gift shops and other area attractions.
Wonder pass rates:-
Adult (13+ years) - Regular Price: $74 --> Online Price: $25 (Save 60%) Child (6-12 years) - Regular Price: $53 --> Online Price: $17
Daily Parking Fee: $13.27 (online price)
Unlimited parking anywhere in Niagara Parks. Paid parking lots can be found throughout Niagara Parks, including right next to the Horseshoe Falls at Table Rock Centre.
Note:
The attractions included in the Pass are valid only on the Canadian side of Niagara Falls.
Valid from November 5, 2018 to April 15, 2019. Children aged 5 and under are free when accompanied by a paying adult.
Prices are in Canadian currency and include applicable taxes.
5 and under FREE Prices subject to change without notice.
Popular Niagara Falls Attractions