Two Sisters Vineyards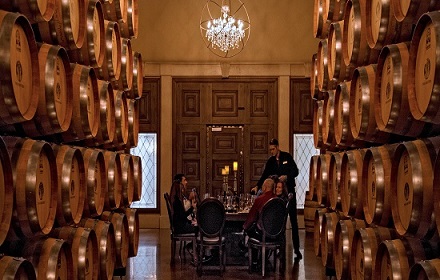 Tour Programs offered by Two Sisters Vineyards
Explore the Grape Tours:
Explore the Grape Tours encompass our passion for great wines. Experience all the elements that make Two Sisters Vineyards the ideal place to savour world-class wines and tour our beautiful estate grounds. The tour is approximately 45 minutes and includes a private structured tasting of three wines with a Wine Consultant.
Tour Availability: 11:30am or 4:00pm daily Duration: Approx. 45 minutes Group Size: 12 guests maximum
The Experience Tour:
You will participate in a tour of our winery, followed by an intimate Barrel Tasting in our cellar, where you will savour the aromas of our French oak barrels lingering in the air.
Price: $60 per person (plus 18% Gratuity) Duration: Approx. 60 minutes Group Size: 4 to 12 guests
Tour Reservations: Please contact us by email to book directly.Email: tours@twosistersvineyards.com
| | |
| --- | --- |
| Location: | 240 John Street East, PO Box 608Niagara on the Lake, Ontario |
| Contact: | Phone: 1 (905) 468-0592Email: info@twosistersvineyards.com |
| Tasting and Wine Boutique Hours: | Sunday – Thursday: 11:00am-5:00pmFriday & Saturday: 11:00am-6:00pm |