Cornerstone Estate Winery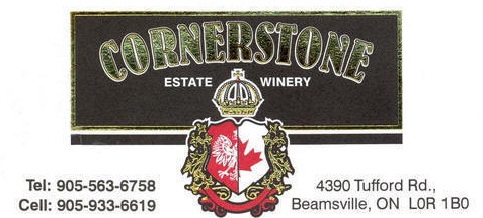 Cornerstone Estate Winery is a family owned and managed winery located on a 20 acre plot in the center of the Niagara Peninsula. Founded in 2002 by Jerry and Wanda Kopanski, the Cornerstone Winery was opened to visitors in 2005.
The Cornerstone Estate Winery develops premium grade wines along with which the winery produces Chardonnay, Vidal Blanc, Cabernet Franc, Souvignon Blanc, Riesling, Gamay Noir, the award-winning Port wine and different kinds of fruit wine. Cornerstone Cellars' current area of production is VQA certified wines in small lots. The Cornerstone Estate also has a fruit tree farm that cultivates a variety of fruit trees such as cherry, apples, apricots, seedless table grapes, peaches, raspberries, plums, apples and nectarines where you can enjoy a true getaway.
Location:

4390 Tufford Road,
Beamsville L0R 1B0

Winemakers:

Frank Zeritsch
Jerry Kopanski

Hours:

May-Oct. Thu.-Sun. 11 a.m.-6 p.m.
Nov.-Apr. Thu.-Sun. 11 a.m.-5 p.m.

Tour Hours:

By appointment only

Phone:

905-563-6758

Winemaker's Choice:

2007 Cab/Merlot