Jesse Sharp
Jessie W. Sharp, a 28 year old bachelor from Ocoee, Tennessee attempted to ride over the brink of the Horseshoe Falls in a 3.6m long kayak on June 5,1990. Sharp, unemployed at the time, was an experienced white water kayaker. Three people who accompanied Sharp to Niagara Falls to video-tape his trip told police that Mr. Sharp had been planning the trip for years. They also told police that Sharp was attempting to go over the Falls in the kayak to advance his career in stunting.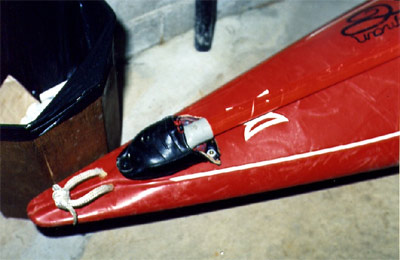 Sharps idea was to gain enough speed in his kayak to project himself over the falls and the pummeling water that would surely claim his life. He would then transverse the rapids below eventually ending up four miles downstream in Lewiston. So confident was Jesse about making the trip that he parked his car at Artpark in Lewiston and made dinner reservations for that evening.
Powerhouse operators, noticing what was about to unfold, diverted water from the river in an attempt to ground the kayaker. But to no avail, Jesse Sharp was determined, and simply skirted around the rocks in his kayak. Just as Sharp reached the brink of the falls he raised his paddle above his head and then, at 1:45 pm, the kayak plummeted over the brink and vanished into the raging waters below.
Sharp did not wear a protective helmet so his face would be visible on film. He also didn't wish to wear a life jacket, believing it would interfere with his ability to escape in the event that he was caught underneath the Falls. After "shooting the Falls", he intended to continue down river through the rapids to Lewiston, New York. He had made dinner reservations there. His body has never been recovered.
Powered by