Annie Edson Taylor
On October 24th, 1901 Annie Taylor became the first person and the first woman to go over the falls in a barrel and survive.
Ms Taylor, a 63 year old school teacher from Michigan, accompanied by her cat, decided to tempt fate in an effort to gain fame and fortune.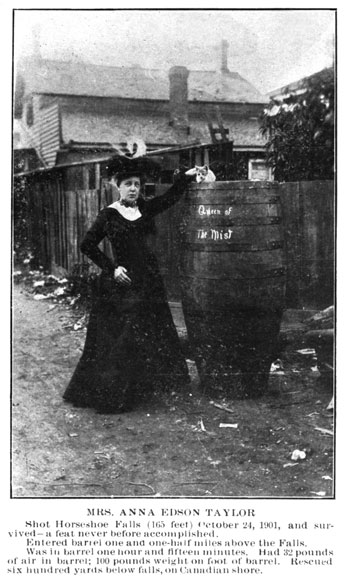 The Pan American Exposition was taking place in Buffalo, New York and Ms. Taylor felt she would be able to attract a huge crowd. On the afternoon of October 24th, 1901 a small boat towed the barrel containing Ms. Taylor and her cat into the main stream of the Niagara River where it was cut loose.
At approximately 4:30 p.m. the barrel was seen edging over the brink, only to reappear less than a minute laterwhere it was seen floating at the base of the falls. Fifteen minutes later the barrel reappeared close to the Canadian shore, where it was dragged to a rock and the barrel lid removed.
To everyone's amazement, Annie Taylor emerged from her barrel, dazed but triumphant. Her only injury was a cut on her forehead that she received while being extracted from her barrel.
Mrs. Annie Edson Taylor was the first person to ever go over the Mighty Niagara Falls and survive and she undoubtedly found the fame that she had been seeking.

For many years after this event she sold mementos of her feat on the streets of Niagara Falls, claiming that she would never attempt another journey over the falls, preferring to walk into the mouth of a cannon. Unfortunately, while Annie Taylor may have found the fame that she desperately sought, she did not find the fortune. She passed away in 1921, poor and destitute.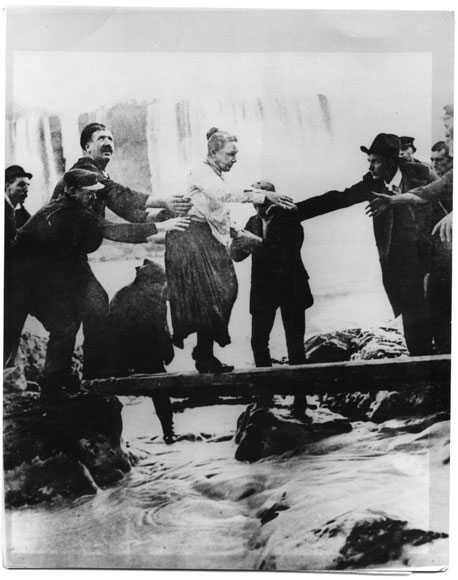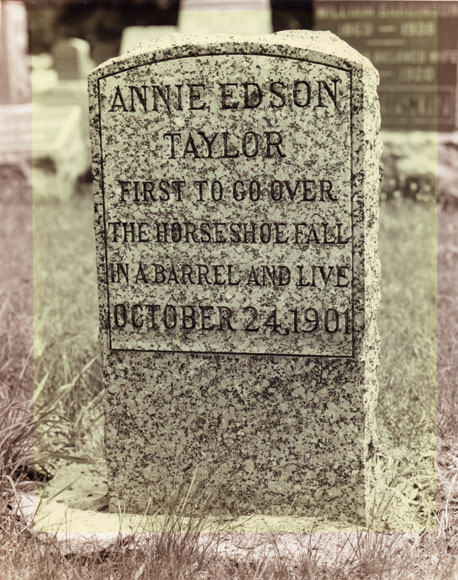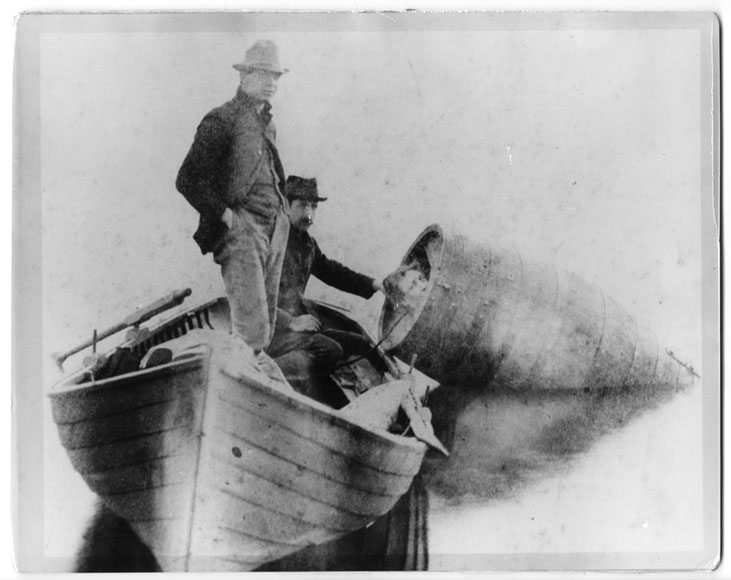 Powered by