Campark Resorts

Campark Resorts is a preferred camping destination for families from all over the world! Our clean, well-maintained, spacious facilities offer many activities with something to appeal to everyone!
Facilities
Tent sites
Camping cabins
Full hookups
Shuttle service
Daily tours
Hot showers & bathtubs
Flush toilets & dump station

Tent sites
Laundromat
Camp store
Firewood, ice etc.
Group facilities
Pavilion, 40 X 90 ft. hall
Camping Cabins :
The new, old-fashioned alternative for an economical family holiday, our one-room camping cabins accommodate two adults and two children. Choose our regular cabins with one double bed and a bunk bed, or our larger deluxe cabins. These rustic cabins provide the fun and excitement of camping out, with the security and comfort of sleeping in. Our cabins make it easy for you to travel-camp. All you need are sleeping bags or bed linens and cooking/eating utensils if you plan to barbecue some of your own meals. There's a roomy picnic table and BBQ/fire-pit on your site. And, of course, you have the use of all Campark facilities.
Camping Destination for Families in Niagara Falls

Only minutes from everything Niagara Falls has to offer, Campark Resorts gives you the best in comfort and affordable family fun, in your tent or one of our cozy camping cabins. Our activities and facilities are second to none, and a warmer welcome would be hard to find! You'll find that many of our campers are return visitors, brought back by the value, friendliness and the many wonderful things to do in Niagara.
Campark Resorts offers endless fun-filled activities for our guests including:
NEW!! Line dancing lessons in the pavilion - June, July and August!
50' by 20' heated pool
Fenced creative playground
9 hole mini-golf
Rec/games room
Horseshoe pits
Volleyball
Badminton
Basketball
Darts
Soft indoor playground
Raffles and flea markets

Video games

Hay rides

Children's programming
Special breakfasts
Easter-themed party
Christmas in July
Hallowe'en in August
Las Vegas nights
Hospitality nights
Bingo and euchre

Campark Resorts Best Holiday
Trav-L-Park
9387 Lundy's Lane (Hwy. 20)
Niagara Falls, Ontario
Canada L2E 6S4
PHONE: (905) 358-3873
FAX: (905) 354-7484
EMAIL: info@campark.com
10 minutes from Niagara Falls, New York
30 minutes from Buffalo, New York
90 minutes from Toronto, Ontario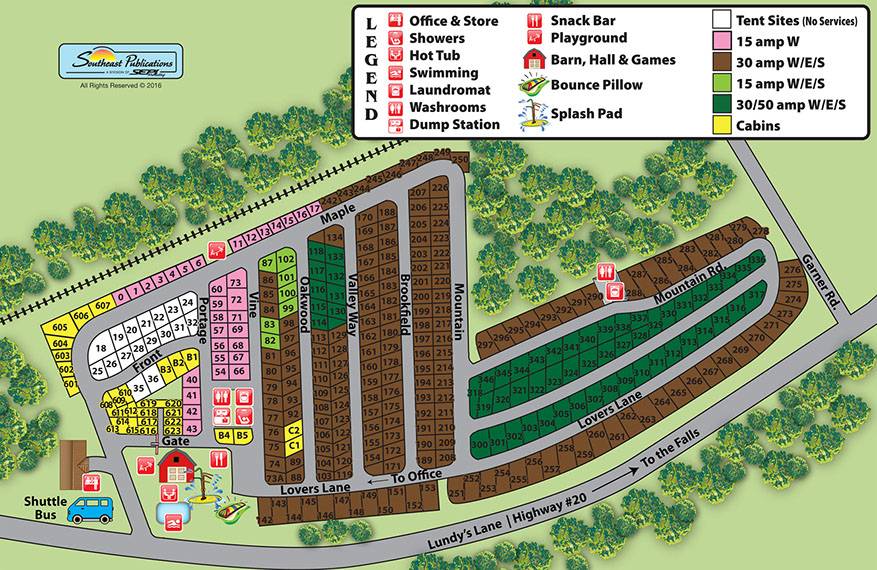 Take Highway 20 (Lundy's Lane) exit off Queen Elizabeth Way.
Located 1-1/2 miles west at 9387 Lundy's Lane.
Look for the big red barn on the right!

For TOLL-FREE Reservations
1-877-CAMPARK
1-877-226-7275
We're happy to have you as our guest, and hope you enjoy a good night's rest. No matter how far away you roam, you're welcome here. So feel at home.
-Your hosts, The Van Kleef Family