Our helicopters are immediately recognizable, with their metallic blue and silver exterior and colourful rainbow stripes. Their air-circulated, customized interiors feature red leather seats and red wool carpets. We really do give our passengers the "red carpet" treatment! Five of our six seats are window seats, and passengers are assured of panoramic viewing from every seat.
In 1996 the Niagara Helicopter fleet was consisting of five 6-passenger Bell 407s. In June 2015, Niagara Helicopters introduced their new fleet of spectacular Airbus H130 helicopters, offering unrivalled safety, comfort and visibility. Each of our helicopters is meticulously maintained to the strictest safety standards. Our four full-time aircraft engineers are well qualified and experienced in helicopter mechanics, and two are high-time pilots as well.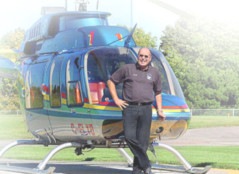 Photo of a Niagara Helicopter above the Horseshoe Falls. For your safety, the airspace around Niagara Falls is controlled by the Federal Government, strictly regulating the weather conditions under which we may fly. If you want to find out whether we are flying on a particular day, contact us at 1-905-357-5672.

Niagara Helicopters Limited
3731 Victoria Avenue
Niagara Falls, Ontario, Canada L2E 6V5
Telephone:(905) 357-5672
e-mail: weflyyou@niagarahelicopters.com