Skylon Tower History
Construction began in May of 1964 and the Tower's doors opened to the general public on October 6, 1965. At the time of construction, the Skylon Tower was a privately owned Canadian Company, the Niagara International Centre. The centre housed international exhibitions with all restaurants in it operated by Canadian Pacific Hotels. In 1975, CP Hotels purchased the complex and operated it until 1986 when it was sold to two local hotel owners. In 1988 the final ownership change took place when George Yerich, one of the hotel owners purchased the entire complex.
Construction History
Soaring 775 feet (236 meters) above the Niagara Gorge and overlooking both the Canadian and American Falls, the Skylon offers the most breathtaking view of Niagara. The Tower's construction represented a major first in the building industry the world over with its adoption of the "slip-form" technique.
Because of the Tower's extreme height and location, extensive wind tests had to be conducted at the University of Toronto. Plans for the construction were completed only after engineers were satisfied with all the results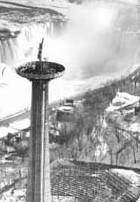 of the tests. It was then decided to employ slip-forming as the most efficient method of construction despite the fact that this had not been attempted before on a tapered structure. Employing the slip-form technique, concrete was poured continuously on a round-the-clock basis for 38 days. The slip-form, 40 inches in height, was inched upward by hydraulic jacks which pulled the entire form one inch every 10 minutes of the 38 days with almost 6,000 cubic yards of concrete being placed in the continuous pour. The tapered shape of the Tower required reducing the size of the slip-form as it was inched upward, a precise operation that had not been previously attempted.
One of the most challenging engineering feats was the construction and placement of the Dome at the top of the shaft. The circular form for the base of the Dome, 108 feet in diameter, was assembled at ground level around the Tower. Then, this form, weighing 200 tons, was raised 380 feet in the air. An ingenious system of hydraulic jacks and jacking rods operated from the top of the shaft was devised to accomplish this construction feat in only eight days.

Skylon Tower
5200 Robinson Street
Niagara Falls, Ontario
Canada, L2G 2A3
Phone (905) 356-2651
Fax (905) 356-8699
Toll Free 1-877-4SKYLON
E-Mail infosky@skylon.com