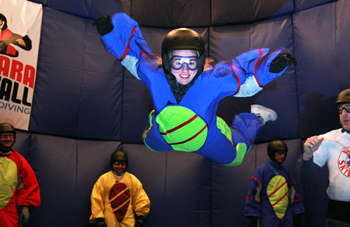 If you prefer to keep your feet on the ground...... try the latest interactive skydiving games and sports in the games centre.

Boasts the cutting edge of interactive arcade games. Always something for everyone. A great place to let loose while visiting Niagara.





Skydiving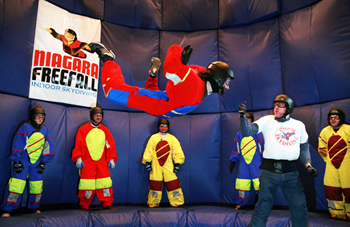 Experience the thrill of skydiving in a safe environmentally controlled indoor vertical wind tunnel. Fly in an a column of air at speeds of 120 mph. All flyers are given 25mins of pre-flight training and safety orientation.

Flight suits and safety equipment is provided. You've seen it on T.V. now you will be able to experience for yourself. Great fun for the whole family.

Open and safe to all ages. Another extreme action sport.
Lazerball
The next entertainment phenomenon!
What is Lazerball? Lazerball is a great new fast-paced and exciting indoor attraction.

Lazerball is paintless paintball game which uses soft safe reusable foam balls.
There is no mess. It's an exciting pursuit game played similar to Lazertag and Paintball. Its filled with fun and adrenalin and is very simple to play.

Lazerball playfield has numerous bunkers to hide behind yet still allows all players to view the entire playing area and provides for an extremely safe playfield.

Safety protective equipment is provided for all players.
Lazerball is fun for all ages.
Mechanical Bull Ride
You've see it on TV and in movies so come try it for yourself and ride our mechanical bull, it's fun for all ages!
After riding the bull you can purchase your very own DVD, so you can remember your action packed ride forever.
Climbing
Experience the thrill and exhilaration of climbing a 32 ft . high rock wall. Challenge your friends to beat your time or try and get the record for the fastest climb. Climbers are always kept safely strapped in. Another extreme sport adventure found only at Niagara Freefall
For more information please call (905) 356 9764 or Toll free 1-800-238 9407