American Tour
(4 Hours - 3 departure times daily)
| | |
| --- | --- |
| Adults | $84.95 |
| Kids (5-11) | $49.95 |
| Toddlers(4 and under) | Free |
The Niagara Reservation State Park - The oldest in the United States - showcases Niagara Falls the way Mother Nature intended. Our All-American tour takes you throughout the park system to all of the major points of interest.
You'll take a stroll along the breath-taking Cave of the Winds Trip, where your yellow raincoats and moccasins will keep you dry as you ascend to "Hurricane Deck" to stand directly below the plunging Bridal Veil Falls. A more dramatic view of Niagara does not exist from any other vantage point.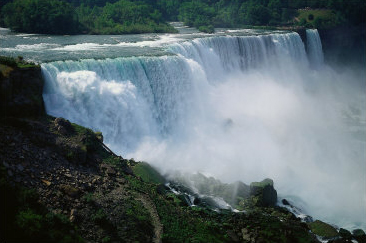 One of the best places to get a picture of Niagara's mist covered rainbows is from the extended viewing deck of the Prospect Point Observation Tower. From this one-of-a-kind lookout, you can snap photos all the way down the 184-ft. glass elevator ride to the bottom of the Niagara Gorge.
The highlight of the this tour is a ride aboard the world famous *Maid of the Mist tour boat. Niagara's oldest attraction - in service since 1984 - the Maid will motor you past the American and Bridal Veil Falls on the way to a jaw-dropping stop inside of the Canadian Horseshoe Falls.
This tour is ideal for anyone that does NOT possess the proper border crossing documents to transit Canada, as well as those who would like to explore the Falls as nature intended them to be.


*The Totally American Tour only offers the Maid of the Mist Boat Ride between the months from mid April through late October. During the winter months we offer a visit to the Aquarium of Niagara Falls instead.

You will view or visit the following breathtaking sights in Niagara Falls, NY, USA:
Horseshoe Falls, American Falls, Bridal Veil Falls, Three Sister Islands, Terrapin Point, Luna Island, Prospect Park, Niagara River, Niagara Rapids, Giant Whirlpool, Whirlpool State Park, Whirlpool Aero Car, Niagara Escarpment, Water Intakes, Hydro-electric Power Plants, Robert Moses Parkway and the Toronto Power Plant.