4025 Dorchester Rd. Suite 128, Niagara Falls, Ontario, Canada L2E 7K8
(905) 1-877-HELI-GOLF
(905) 356-9295
Check Out All Of Our Golf Courses!

Glen Abbey
Glen Abbey Golf Club will be remembered for years as the site of "The Shot of 2000" - Tiger Woods' 218-yard 6-iron from a fairway bunker on the 18th hole to set up the birdie that clinched the Bell Canadian Open and the Triple Crown. (Tiger's Triple included his victories in the 2000 U.S., British and Bell Canadian Opens.) Canada's No. 8 ranked golf course is open to anyone wishing to retrace Tiger's historic steps and challenge Jack Nicklaus' first solo design. Opened in 1976, Glen Abbey is held in high esteem by Tour players for its difficulty - 7,112 yards, Slope 140 from the Black tees - but it is surprisingly accommodating from the shorter tees.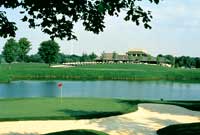 You can freewheel with the driver on its receptive fairways, but the greens are devilishly undulating and protected by steep bunkers. Nine-minute tee-time intervals help keep play moving along, and the maintenance is immaculate. Glen Abbey is in Oakville, Ontario, just west of Toronto.

Royal Niagara
Created by renowned golf course architect, Ted Baker (Lionhead), the Royal Niagara GC is an upscale 27-hole facility made up of three distinguished nines - the Escarpment, Iron Bridge and Old Canal courses - each balanced in terms of length and challenge. The Royal Niagara Golf course takes full advantage of its unique geography, incorporating the Niagara Escarpment, the CNR line and bridge, and the historic Welland Canal in its design.
Recognized as one of Canada's best new golf courses, Royal Niagara GC garnered 16th place on the Toronto Star's Bogey Man's Top 18 courses for 2002 and was selected as Niagara's Best New Course in 2001 by Teeing it Up Niagara.
Playing over 7000 yards from the championship tees, the course features sculpted fairways, undulating greens, cavernous bunkers, and an abundance of water. Nestled between the historic Welland Canal, the popular Bruce Trail and the rugged Niagara Escarpment, Royal Niagara offers an historic and scenic golf experience.

Grandview
The Mark O'Meara Course at Grandview Golf Club opened May 31, 2001, in Ontario's scenic Muskoka area, signifying the debut of the 1998 PGA Tour Player of the Year in signature golf course design. "We felt it was important that the first O'Meara Design was on a beautiful piece of property," said the 1998 Masters and British Open champion.
The course sprawls across spectacularly rugged terrain and exudes wilderness feel with its diverse stands of trees, elevation changes and granite outcroppings unique to the Canadian Shield region.
Mark O'Meara has taken great strides to make the course challenging but playable for all abilities with wide fairways, shallow bunkers and gently sloping greens. A second 18-hole course designed by Nancy Lopez and Curtis Strange is planned for 36-hole Grandview Golf Club adjacent to the 149-room Delta Grandview Inn in Huntsville.

Lake Joseph
Recognized as the Best New Canadian Course of 1997 by Golf Digest, The Lake Joseph Golf Club is a distinctively Canadian course framed by dense forest and granite rock outcroppings of the pristine Muskoka region. Designed by renowned architect Thomas McBroom, Lake Joseph offers the very best in strategic golf and course conditions in a rugged but accessible setting only two hours north of Toronto.
McBroom has taken full advantage of the ruggedly beautiful Canadian Shield; Lake Joseph slices through thick woods and careers across wickedly undulating terrain that provides spectacular scenery, challenge, variety and lasting memories.
The views of Lake Joseph are to die for. And don't miss the nine-hole Academy Course, a beautiful course ideal for novices and families that winds past the Delta Lake Joseph Resort near Port Carling.

Rocky Crest
With its spectacular log-cabin-style clubhouse and acclaimed golf course, the Thomas McBroom-designed Rocky Crest Golf Club celebrates the natural features of the Canadian Shield in Ontario's Muskoka region. Framed by giant forests of pine, white birch and hemlock, the rolling fairways are accented by deep bunkers and granite outcroppings that provide definition and challenge. "The use of the rock is totally innovative - a strategic and aesthetic element that shows off the beauty of the Canadian Shield," Thomas McBroom says.
The seamless routing, views, marshes and abundant wildlife enhance a memorable golf course that has received rave reviews since it opened in May 2000. McBroom, a four-time winner of Golf Digest's Best New Canadian Course award, says Rocky Crest has generated the biggest buzz of any new course that he has designed. Rocky Crest Golf Club is adjacent to Delta Rocky Crest Resort at the north end of Lake Joseph.

Hunters Pointe
In 2000, the opening of Hunters Pointe, a first-rate links-style course in Welland, signalled a new direction for golf in Niagara. The course immediately caught the attention of local, GTA and American golfers alike, as well as earning praise from a number of course ranking agencies. In designing Hunters Pointe GC, Darrell Huxham (Graham Cooke & Assoc.) introduced Niagara to "links" golf - a layout modelled after the courses of the Scottish Highlands. Aye, lads, she's a bonnie heath and dune ! Recognized as one of Canada's best new courses, Hunters Pointe GC garnered 9th place on the Toronto Star's Bogey Man's Top 18 courses for 2002, and the 9th hole made his Top 9 Water Hazards list in 2001. "Any pond which must be crossed twice is savage!" Hunters Pointe GC is bold, beautiful and bewildering all at once and a brand of golf that just can't be experienced elsewhere.

Peninsula Lakes
One of Niagara's most beautiful and challenging courses awaits you. Nestled on the Niagara Escarpment and surrounded by the many vineyards of Niagara, it is truly an unforgettable experience. Peninsula Lakes is a 27 hole facility and its three courses are aptly named, The Orchard, Hillside and The Quarry. Peninsula Lakes was given a four star rating by Golf Digest and Score Golf Maga-ranked it one of the "Most Underrated Golf Facilities in Canada" 2001.
Since opening as a 9-hole course in 1980, Peninsula Lakes GC has systematically evolved from gravel pit to one of Niagara's premier courses. Designed by renowned architect, Rene Mulyaert, Peninsula Lakes now boasts a 27 championship holes - the Quarry, Hillside and Orchard nines. Each layout makes the most of modest elevation changes, man-made lakes and the natural contours of the landscape and are well balanced in terms of length, difficulty and playing conditions. Recognized as one of Niagara's best courses, Peninsula Lakes GC garnered 14th place on the Toronto Star's Bogey Man's Top 18 courses for 2002.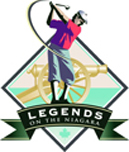 Legends on the Niagara
The Legends on the Niagara is a 700 acre complex on the Niagara River. It boasts two 18 hole golf courses, Battlefield and Ussher's Creek and 9 hole course, Chippawa. It also has a 3-acre putting green, a 45-acre, 360-degree driving range and a 35,000 square-foot clubhouse.
Ussher's Creek
The South course, Ussher's Creek, is literally carved out of the surrounding woods. The meandering creek, after which the course was named, winds its way through a number of holes where golfers will find themselves having to make a number of shots with pinpoint accuracy.
Battlefield
The North course, appropriately named Battlefield, contains a 19-acre man-made lake that comes into play on no less than 4 holes. And from the thirteenth hole you'll get a view of Niagara Falls in the distance. Named after a legendary battle in the War of 1812 that took place on the land adjacent to the course, golfers of all skill levels will no doubt find this course both beautiful and challenging.
Chippawa
The 9 hole course, Chippawa, celebrates the village in which the complex is located and commemorates the rich history of the people and the area in which we live. The unique design collaboration of McBroom and Carrick lends itself to what we believe to be the best short course in Canada.