Splash Pad
Wet, wild and wacky fun for kids old and young awaits you at Safari Niagara splash pad. Jolly Splashers and rainbow misters will wet the wee ones while the older of the species amuse themselves with squirting teeter totters and motorcycles, tipping fish and kid-controlled, jungle themed "wet heads". Conveniently located on the southern side of Merembe House at tram stop number 2.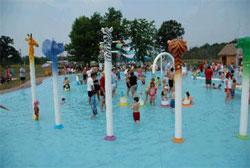 Change rooms available
Patio area
Gift shop
Water depth: 10 inches
Adult supervision is mandatory
Wheelchair accessible
Safari Niagara recommends that you always be smart and wear a sunscreen when outdoors
Opening Date - Mid June
Closing Date - Mid September (Weather Dependent)
Petting Zoo
Animal Communication, interaction between animals in which information transmitted from one animal or group of animals affects the behaviour of other animals. Safari Niagara has established an area that allows for animal communication of an up close and personal kind. Animals typically exchange information using a signal, such as facial expression, sound, or touch. Communication between animals helps them coordinate the vital functions of their lives-namely, gathering food, staking out territory, caring for young, defending themselves or interaction with other species such as humans.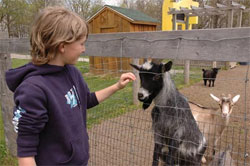 Most commonly, animal communication is intraspecific (occurring between animals of the same species). Intraspecific communication also helps distinguish individuals in a particular animal group. Mother gulls learn to recognize the individual calls of their own chicks so that they can quickly find their babies in densely populated gull colonies.
Communication can also be interspecific (occurring between different animal species). Many animals who share habitats learn to use signals from other species as warnings for approaching danger. Tree-living monkeys respond to the alarm cries of other animal to warn of danger. Many animals also have mutual relations that help each other survive or add in some other areas of comfort. Safari Niagara has created a unique opportunity for people to communicate with animals. We have created an opportunity to communicate through touch, voice and even an odd facial expression or so.
Please make sure to visit our communication park that allows you an up close and personal interaction with the other species. Who knows what you may learn or teach to another species?
Children's Playing Area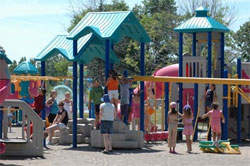 Play is a child's way of learning - it develops imaginations, inspires delight, creates wonder, increases curiosity and enchants the little ones. Safari Niagara has created an outstanding play environment adjacent to our picnic pavilion - featuring slides, swings, climbers, tunnels, bridges and "tree huts".
With Mom and Dad an arm's length away enjoying a rest at one of the many benches and picnic tables, kids can occupy themselves on our great CSA approved play equipment, meet some new friends and chat with their peers about the neat experience they have had at Safari Niagara. Yet another added value for families at Safari Niagara!
Fishing
Fishing at Safari Niagara is an exciting and fun learning experience, under the supervision of an experienced angler. We have a well stocked pond that ensures a large selection of crafty fish such as black bass and sunfish. Our catch and release program ensures the safety of our fish and provides you with an experience that you will never forget. In fact we can even help with those big fish stories.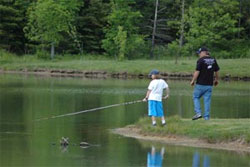 People have fished since ancient times, when pieces of bone were used as hooks and lengths of vine as line. The oldest known painting of an angler using a rod or staff comes from Egypt and is dated about 2000 BC. Can you just picture yourself fishing on the shore of a great lake with Zebra and Giraffe just over your shoulder? Greek philosophers Plato and Aristotle mentioned angling in their writings, and other Greek writers gave tips about fishing lines. In the 2nd and 3rd centuries AD, The Romans wrote about Macedonian trout anglers using artificial flies as lures.
The methods and tackle used for fishing evolved slowly through the centuries, and not until the late 15th century did sport fishing as it is now known really begin. In 1496 the written first book gave specific details for in English about the use of the fishing rod. The book describes the construction of hooks and rods for angling. The manuscript also describes how to tie knots in fishing lines and how to make and use artificial lures and flies to take advantage of the feeding habits of game fish. At Safari Niagara we fish for fun and relaxation and we release all our catches. Our fishing programming is a catch and release program under supervision, we want to make sure you have a safe and memorable time.
We offer fishing equipment to use free of charge and bait is available at a nominal fee.
Bounce-A-Rooz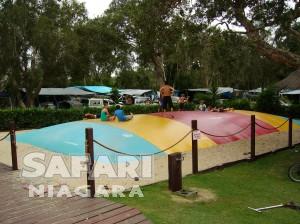 We have 2 NEW Jumping Pillows this year! They are huge, inflatable pillows allowing you to jump sky-high and bounce until you can't bounce any more - Our Bounce-A-Rooz
Even the little ones can enjoy one all of their own!
*June 1st or later - Labour Day only. Weather Permitting.
Safari Speedway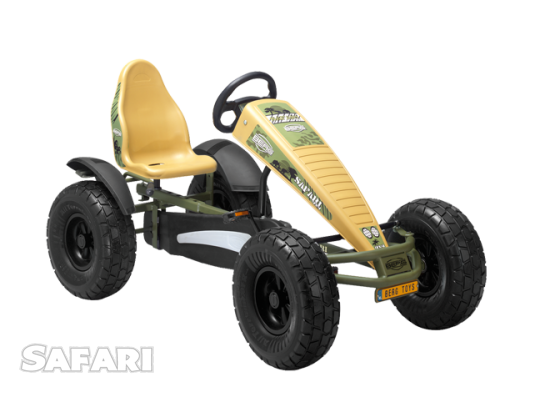 Do you want to go on journeys of discovery through the splendors of nature? Our NEW Pedal Bike Go-Karts take you anywhere you want to go on the track. With their impressively large tires you can forge a route across our awesome track. Thanks to its camouflage you can blend in naturally like our animals! Let the Discovery begin!
*June 1st or later - Labour Day only. Weather Permitting.
Paddling
Come and enjoy our paddle boats on our manmade lake. FREE with park entrance!
Keeper Talks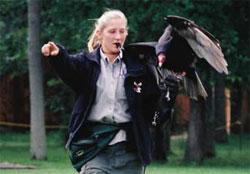 Learn more about some of your favourite animals from the keepers who take care of them on a daily basis. Our Keeper Talks will provide educational information about what is required to care for our animals, share some of their unique personalities with you and provide you with an intimate look on conservation.
Please Note: All Keeper Talks are weather permitting and do not run in inclement weather.
Tram Tours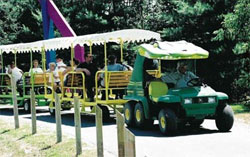 Give your legs a rest and climb about the Gator Express, an open-air tram system that makes several designated stops throughout the park allowing you to get on and off as often as you wish. The tram ride is also a guided tour of Safari Niagara, so you can relax and listen as you make your way around the perimeter of the park.
The tram stops at the restaurant, the Silent Forest, the Zooniversity staging area, the paddle boats and main entrance/gift shop. The tram is wheelchair accessible and equipped with a ramp. Strollers and wagons are also welcome on board.
Sculptures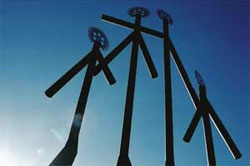 Safari Niagara is home to the largest steel sculpture exhibit by one artist in the country. Rod Dowling has been creating his one-of-a-kind pieces for Safari Niagara since the park opened in 2002 and today there are more than 200 on display throughout the grounds.
From 50-foot high stainless steel sculptures to usable steel benches, Mr. Dowling has added an incredible uniqueness to Safari Niagara with his talent of using recycled pieces of steel to create these one-of-a-kind sculptures.
SkyQuest (June 1 - Labour Day)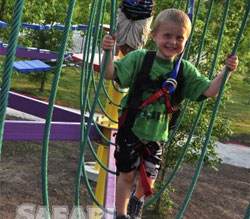 Welcome to SkyQuest, a brand new multi-level adventure ropes course at Safari Niagara, the first of its kind in Ontario. Challenge the thrill-seeker in you by navigating a stimulating obstacle course 30 feet in the air using only ropes and beams. Anyone can participate, children under 48" tall must be accompanied by a chaperone.
Smaller adventurous types can join in the fun on SkyTykes, a challenging course of balance beams, ropes and bridges similar to its larger counterpart, SkyQuest.
Individuals are harnessed and maneuver themselves along a track for safety. And there's no hurry... you conquer the course at your own pace, making it a great adventure for the whole family!