The Tour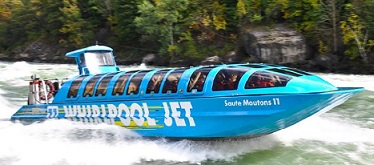 Family fun and excitement are in store for you as you speed upriver in a powerful Jet Boat towards the Niagara Gorge - a 200 foot high stone walled canyon - and into the legendary churning waters of the Niagara Whirlpool.
All trips are fully guided. The river guide entertains and narrates during your entire time on board. History and geography of the river is explained during this fully guided 45-60 minute Niagara River tour. Wearing helicopter style head sets, you will see the sights and all the amazing scenery just a short distance from one of the natural wonders of the world - mighty Niagara Falls - while staying completely dry! Doors on the boat go up and down allowing some great photo taking opportunities. Bring aboard your camera.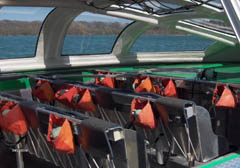 The trip is designed to be a family fun adventure available to a wide range of guests. The minimum age for the trip is 4 years old and many seniors well into their 80's have taken the tour. No tour in Niagara allows a visitor the opportunity to see the historical sites, man-made marvels, beautiful scenery and feel the incredible power of the Niagara River then this unique boating experience. This tour has recently been featured on CBC's The Nature of Things, CBS' The Early Show, The Amazing Race - Family Edition, The Discovery Channel, The Travel Channel, and The Outdoor Life Network, and has been delighting visitors to Niagara for 16 years. This may just be the most exciting tour of Niagara you will find!
Important Inclusions and Guest Services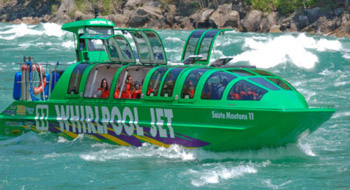 Jet Dome tour on the Niagara River into the Niagara Gorge and the famous Niagara Whirlpool
Coast Guard Certified Captains - fully trained River Guides providing entertaining tour narration
Pre-trip safety orientation. All participants must arrive at least 30 minutes prior to departure time to attend orientation.
Lifejacket provided
Wheelchair accessible with assisted boarding. (Guests must be able to sit on a bench seat and support themselves without assistance by holding on to a bar in front of their seat)
Retail River Shop. Digital photography program to view afterwards in the River Shop
All Reservations must be paid in advance. We accept Visa or Master Card.
PLEASE NOTE:
Minimum age to take this tour alone without adult supervision is 16.
Children under age 4 may not take this tour. Anyone under 40 inches tall may not take this tour.
Due to the nature of this tour, pregnant women are not permitted to participate.
All participants must be in good health, and not subject to neck, or back injuries.
A signed participation agreement is required by all participants.