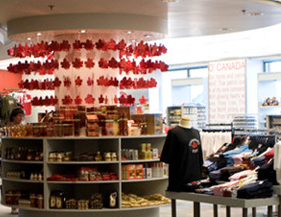 MAIN CONCOURSE
The Tower's main entrance and reception area for guests is located on this floor. Here tickets to the Observation Deck and elevation to the Dining Rooms are reserved through our Front Desk and Reservation Desk respectively. The Main Concourse also includes international boutiques, Canadian handcrafts, a currency exchange booth, our Mini Chateau for quick snacks.
PLAZA LEVEL
The plaza level has 30,000 square feet of exhibition space that is available for special events, trade shows and large dinner receptions. For information contact our Sales and Marketing office.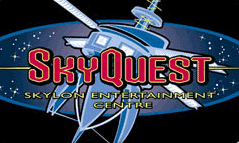 LOWER LEVEL & SKYQUEST
Go For The Games!
After you've checked out the breath-taking Observation Deck, come enjoy all the fun and excitement of SkyQuest - Niagara's largest indoor amusement park!
SkyQuest is located in the lower court of the tower. Just follow the "Starway" path on the Main Floor and the escalators will take you into an awesome high-tech game world!
SkyQuest has dozens of electrifying rides and attractions for the whole family - including the spectacular eight-lane Car Race! SkyQuest's giant arcade features an incredible variety of sights and sounds for the 'gamer' in you - everything from Pod Racing, Title Fight and Wacky Gator to video golf, fooze ball and air hockey. And with over fifty prize-winning games, everyone goes home a winner!
Don't forget - there's always plenty of great food to go around. SkyQuest's refreshment stands will offer all of your favourite fast food treats whether it's pizza and burgers you're after or popcorn, pretzels and cotton candy.
Filled with dazzling lights and unbelievable fun, SkyQuest is a cool place to bring the kids, hit the games or just take in the stunning wall-size murals of Niagara Falls and "Festival Of Lights".
If you're looking for a whole lotta cool under one roof, there's only one stop in Niagara for you. Check out SkyQuest for the best in "out of this world" fun!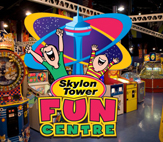 Don't forget SkyQuest is also available for a wide variety of occasions including children's birthdays, staff functions, Christmas parties or any other type of group outing. To find out more about rental rates and SkyQuest availability, please call 1-905-356-2651.
The Lower Level contains Niagara's largest indoor amusement area, fun for the whole family. Administration offices, engineering departments, rest room facilities, and 18,000 square feet of convention / exhibition space. Contact our Sales and Marketing office for more information.

Skylon Tower
5200 Robinson Street
Niagara Falls, Ontario
Canada, L2G 2A3
Phone (905) 356-2651
Fax (905) 356-8699
Toll Free 1-877-4SKYLON
E-Mail infosky@skylon.com