REVOLVING DINING ROOM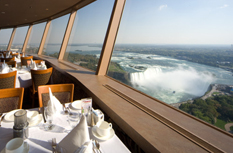 For groups with a taste for the extraordinary Skylon's Revolving Dining Room simply must be experienced. Our award winning continental cuisine is presented in an elegant setting 775 ft. above the Falls. Lunch or dinner, the menu is rivalled only by the view, which they can appreciate at leisure (one rotation per hour). Dine by night and they will discover the unique atmosphere created by the illumination of the Falls.
SUMMIT SUITE BUFFET DINING ROOM
Completely new, The Summit Suite Dining Room of Skylon Tower has been transformed into a setting as tasteful as its famous buffet. The new décor is warm and inviting with rich wood panelling and elegant accents of brass and granite - all complementing the sumptuous new double-sided buffet. Come enjoy this superb dining experience matched only by the majestic Falls below.
Even if your groups have been to our Summit Suite Dining Room you'll want to send them back to see our brand new look.
The Summit Suite is available for your private function from mid-October to mid-May. Our professional and qualified staff look forward to working with you to make your special event a great success.
At 775 ft. high overlooking the thundering Falls, the Summit Suite offers a spectacular view of the ever-changing mist and the rainbow of evening illumination. Nothing could make a special event more special. This internationally recognized facility is a full 2500 sq. ft. of immediate atmosphere and inspiration with a total seating capacity of 200 (165 with dance floor) the Summit Suite can act as the ultimate host for virtually any type of function or activity.
GROUP DINING TERMS & CONDITIONS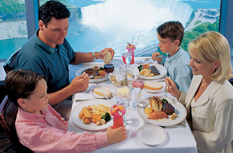 Group must check in 15 minutes prior to reservation time.
Upon arrival, group will check in at the Tour Desk (when open) or at the Front Desk where group will be directed to the appropriate elevator and taken to the dining room reserved.
Groups will be given a 15 minute grace period. We will do our best to accommodate late arrivals at next available seating.
50% advance deposit required 30 days before arrival - balance payable before departure, with cash, major credit card, certified cheque or credit approved Company cheque. A credit application must be received and accepted prior to having billing privileges.
Credit card deposits must be authorized by fax.
Guaranteed number of guests required 7 days before arrival.
Two week cancellation notice required or deposit not refunded. Cancellation number must be obtained when reservation is cancelled or Agency will be billed for any no show groups.
Complimentary meal policy - Applies only to Travel Agencies & Tour Companies. One (1) escort and one (1) driver complimentary with a minimum of 20 paying guests. Escort and driver meals are not transferable.
Driver policy: Drivers entitled to a complimentary meal must check in at Tour Desk (when open) or at the Front Desk and pick up a Meal Voucher, which will indicate where driver will eat. Should you or your client wish the driver to eat with the group in the same dining room, special discounted rates are available Click here for Driver Policy
Meals of local tour guide(s) or trainee(s) are not complimentary and will be on a cash basis only, unless the Agency is willing to assume this cost.
All group rates apply to groups with a minimum of 20 paying guests and are subject to change without notice.
A Currency Exchange Desk is available on the Main Concourse during the summer months.
For Group Reservations Call: 1-905-356-2651 or 1-800-814-9577
Dining extension: 226/227 or 224
Observation extension: :211 or 224
Fax: 1-905-356-8699
Office Hours: Mon - Fri 9:00am to 5:00pm (Closed Sat, Sun & Holidays

Skylon Tower
5200 Robinson Street
Niagara Falls, Ontario
Canada, L2G 2A3
Phone (905) 356-2651
Fax (905) 356-8699
Toll Free 1-877-4SKYLON
E-Mail infosky@skylon.com