4D Movie Theater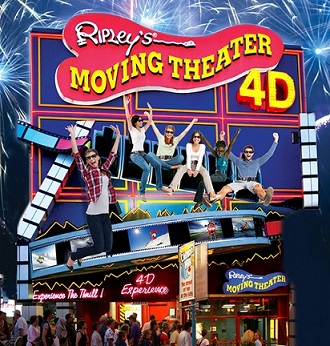 Ripley's Moving Theatre, located at the top of Clifton Hill is a an exciting experience for the visitors of Niagara. Experience the thrill of Ripley's Moving Theater, the only movie of its kind, where you actually move with the picture and feel every bump, dip and turn.
The Moving Theater has a height restriction of no less than 43" and those who suffer from motion sickness, seizures, back/neck/head injuries or are pregnant are strongly advised not to ride Ripley's Moving Theater.
The dynamic 6 channel surround sound system and giant 70mm screen thrust you into the picture. Fun for the whole family.
Seats Move in 8 Directions
Niagara Falls Only 70mm Film
D Effects
6 Channel Digital Surround Sound
State-of-the-art Motion Simulator
OPEN 365 DAYS A YEAR
Monday – Thursday: 10am to 11pm
Friday – Sunday: 9am to Midnight
Ticket Rates: Single Tickets - Ripley's 4D Moving Theater
Adult (13-64) - Ripley's 4D Moving Theater - $13.99
Senior ( 65 +) - Ripley's 4D Moving Theater - $10.9
Child (6-12) - Ripley's 4D Moving Theater - $7.99
NOW PLAYING:
Motion Madness is Ripley's Moving Theater's most popular adventure. Experience a wicked wooden roller coaster, racing dune buggies and snow mobile adventure.
The Fun House is a seat gripping action-packed thrill ride through a madcap fun house.

Ripley's Niagara Falls
4960 Clifton Hill
Niagara Falls, Ontario
Canada L2G 3N4
Phone (905) 356-2238
Fax (905) 374-7345