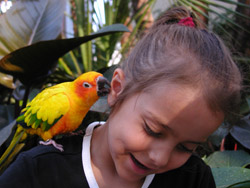 Your Bird Kingdom Experience
Bird Kingdom is divided into 4 spectacular experiences! The first is our Small Aviary featuring over 35 different species of smaller birds. This intimate exhibit allows you to witness tiny birds of dazzling colours, sparkling personalities and magical song!
The next part of your journey takes you into an ancient jungle ruin full of creatures of the night. Bats, owls, poison arrow frogs and many more fascinating nocturnal animals. Watch our colony of Egyptian Fruit Bats feed right in front of your eyes during their twice-daily feeding times!
The main event at Bird Kingdom is our 6 storey tall, 45,000 square foot atrium. Here, incredible birds of every shape and colour fly free amidst 35 foot tall palm trees and a 40 foot tall waterfall. Nature is truly more powerful than words when trying to best describe this wondrous place. Daily bird encounters and feedings, a century old, hand carved teak Tiki House are just a few of the daily activities that await you on your tropical adventure!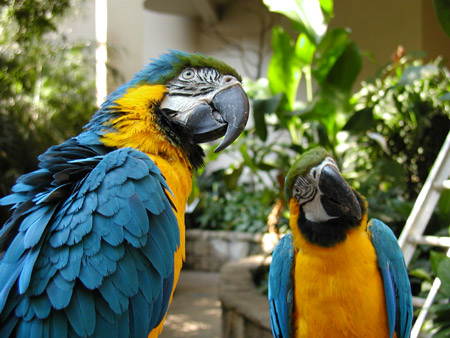 Niagara Falls Aviary Facts and Features
Opened in June 2003
A perfect 76 degrees Celsius year round
Wheel chair and stroller accessible
Award Winning Gift shop on site
Light lunch menu in the Tiki House *seasonally

Birds from around the world majority of them from Australia, South America and Africa
Walking distance to the Falls
Self Guided and Guided tours available
World's largest, indoor, free flying Aviary!
4x Winner of Niagara's "Attraction of the Year" Award!